ALBUQUERQUE (BNM) - In the fellowship hall at Sandia Baptist Church, Albuquerque, people smiled on Sunday afternoon, April 14, as senior adults honored graduates from high schools, colleges and graduate schools at special banquet. Senior adults escorted graduates to their seats in a procession-like manner as Becky Whelan announced their names and read short biographies. Decorated tables filled with parents, siblings, and mentors awaited the honorees.
The church's Prime Timers senior adult group served tea refills, water and rolls and collected food orders. When asking graduates if they preferred their meat cooked rare or medium, several of them had to debate the merits of both before choosing.
Members of Adult 5, 6 and 7 Connection Classes served plates filled with green beans, mashed potatoes, and roast beef. While students and others dined, Garland Peek emceed the program. Senior adult Belva Malone shared her experiences of attending Wayland Baptist University in her day. She called her speech "College in the Dark Ages."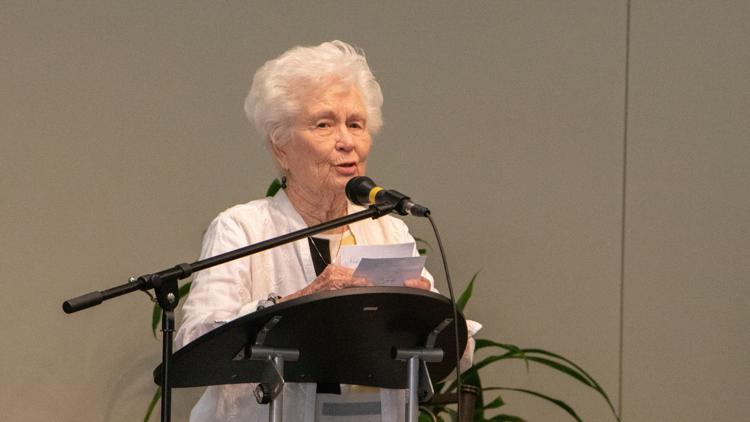 Malone told stories about gas rationing, going without electricity, party-line telephones and 6:00 p.m. curfews. She admitted that students attended weekday evening church activities just so they could be out of their dorms after 6:00. She also reminisced about playing half-court women's basketball and wishing that her African American friends could play on her team. 
After the program Malone said, "I have great-grandkids the age of these kids. I look out at all these young people and just hope that they will have the courage to do what is right and to not go along with the world." She said she enjoys encouraging young people to choose good friends. "My friends from grade school and I still talk and visit. We need to be close," she said. "Even though we [she and the graduates at the banquet] are different in age, I hope these kids know we would be more than happy to take them to lunch and be with them any time."
At least 75 people attended the banquet. Bill Bankey, the event's organizer heard of the idea from Karen Cox at First Baptist Church, Moriarty. Bankey "ran" with the idea andbegan delegating responsibilities. He said, "At Sandia's Senior Banquet, our senior adults honor our graduating seniors, their parents and families, and those who have mentored them spiritually. This multi-generational event is intended to better connect our senior adults with our youth. We hope that this will become an annual event."
Sandia's administrative assistants,Becky Whalen, Kerry Holt, Cindy Nichols, Carol Gentry and Bethany Cooksey, helped by printing placemats with graduates' pictures, printing personalized name cards for seating, creating a PowerPoint presentation, collecting RSVP's and preparingcards and gifts for graduates.
Commenting on the event, the church's pastor, Ronny Cooksey, expressed joy and thankfulness. "Few things bring me more joy than seeing the younger and older generations tying cords to one another. Both generations need each other, and the church is stronger when these generations interact," he said. "I am very thankful that our senior adults at Sandia Baptist Church care enough for our teenagers to put this banquet together."
Cooksey charged graduates and others in attendance with ideas from Hebrews 12:1-3. He encouraged them to lay aside encumbrances and sins that hold them back and rob them of endurance. "Did you know that there was sin in the world when these older believers were your age," he asked. "That is one of the reasons they so desperately want you to go the way of God. They want you to avoid the regret they have either experienced or seen in their friends." 
Cooksey also talked about beginning to make personal spiritual investments early in life, relating those investments to a spiritual bank account. He explained how taking time to "sow wild oats" and delaying a strong spiritual start while young drastically reduces the ultimate impact of a person's spiritual life.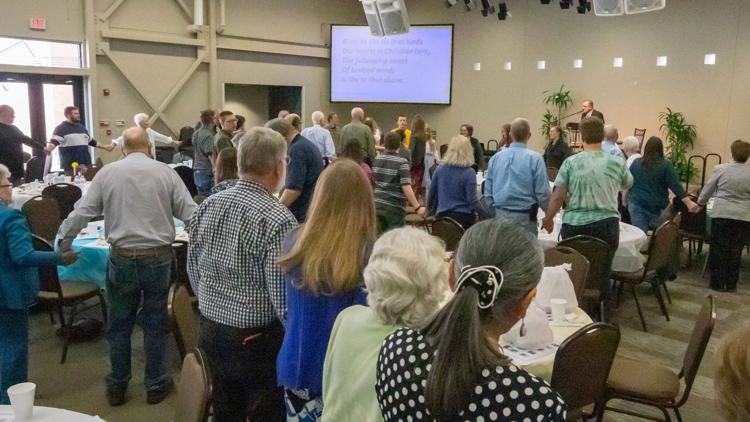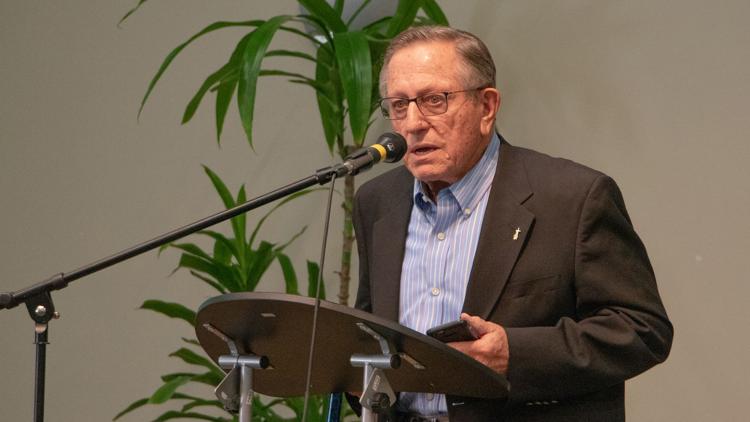 At the end of the banquet, Cletus Kauk, a retired minister of worship arts, encouraged everyone to stand and join hands. With clasped hands, believers of all ages sang together "Blessed Be the Tie that Binds." The seniors helped younger attendees who were unfamiliar with the tune and words. Finally, Jim Wier led the group of many ages in a closing prayer.