RUIDOSO (BNM) - First Baptist Church, Ruidoso, commissioned Evans and Chelsey Okeyo one day before leaving for Nairobi, Kenya, to begin serving as team associates with the International Mission Board. FBC is Chelsey's home church and the Okeyos sending church. The commissioning service consisted of challenges delivered by missionaries, a challenge from First Baptist's pastor, a time of prayer and other elements.
Husband and wife missionaries Israel Planaguma and Donna Cannella attended the commissioning service. They are both employed by CRU (formerly known as Campus Crusade) in Barcelona, Spain. Cannella encouraged the Okeyos to find their value and worth in Christ. "What you do does not define you. Your identity is rooted in Christ…sit at Jesus' feet even with all the work to be done," she said. Planaguma reminded the Okeyos of Peter's words that we are "a chosen race, a royal priesthood called out of darkness into His marvelous light"; we are called to go into all the world to spread the Gospel. "There is no American church, European church, African church. We are all one body, the body of Christ," he said.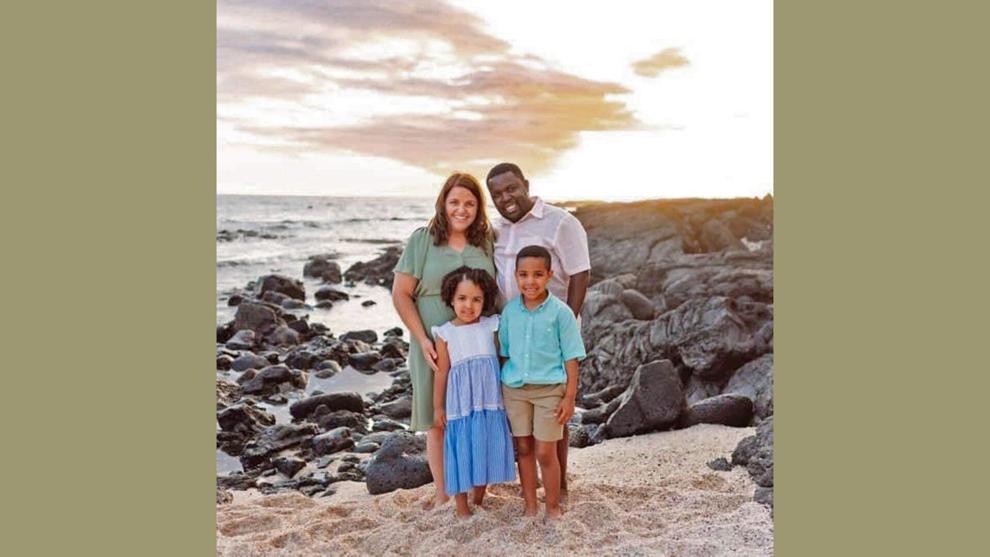 NAMB missionaries Kelly and Jeannie Manire were also at the commissioning service. They serve in British Columbia. Kelly spoke to the Okeyo's children, Kyler and Elaine, now missionary kids. "Your parents are heroes. You are as much missionaries as your parents," he told them. His challenge was found in II Timothy 1:6, to "fan into flame the gift you have been given." Jeannie shared Isaiah 43:19, "Behold, I am doing a new thing…I will make a way in the wilderness and rivers in the desert." She urged the Okeyos to stay strong as they go into the wilderness.
Last, Kelly said, "We, the church, affirm your faith, affirm your call, affirm your gifts so you can be His ambassador in Kenya. It's not happy day because you're leaving but a happy day because you are going."
Pastor Todd Sullens spoke to the Okeyos from Matthew 9:35. He said, "Jesus was always on the move doing Kingdom work." He first charged the family to go and do good: teach, preach, heal. Second, he challenged them to see people like Jesus saw people. Feel what they are feeling; stay close to Jesus and get around lost people.
Third, Sullens charged them to pray for the harvest. The church must "pray, pray, pray and pray some more," challenged Sullens. Finally, he encouraged them to build the other believers around them.
David Shriver, First Baptist's Missions Team leader, led a time of prayer. Family members, deacons and wives, Missions Team members and the visiting missionaries gathered around the Okeyos, reaching out to touch them as Shriver prayed.
The Okeyos arrived in Nairobi on August 10 "and hit the ground running," according a social media message Chelsey posted.