ALBUQUERQUE (BNM) - Members of Rio Church Albuquerque celebrated the church plant's third anniversary on Sunday, Jan. 6, during its weekly worship service.
During the service, Rio's pastor, Bryne Palmer, baptized two adults and two children. Those baptized were Joseph Johnston, Brandon Esparza, and Ezparza's two nephews Santino and Marcelino Perez. For the service, the church rented one of Central Baptist Association's portable baptisteries.
Before each baptism, Palmer shared each person's testimony, pointing out a sequence of "Gospel links," which God used to bring each individual to a saving knowledge of Himself. According to Palmer, Johnston began attending Rio after being inviting by friends. Before that, two of Rio's small group leaders, Mike and Debbie Taylor, invited Johnston's two friends to the church.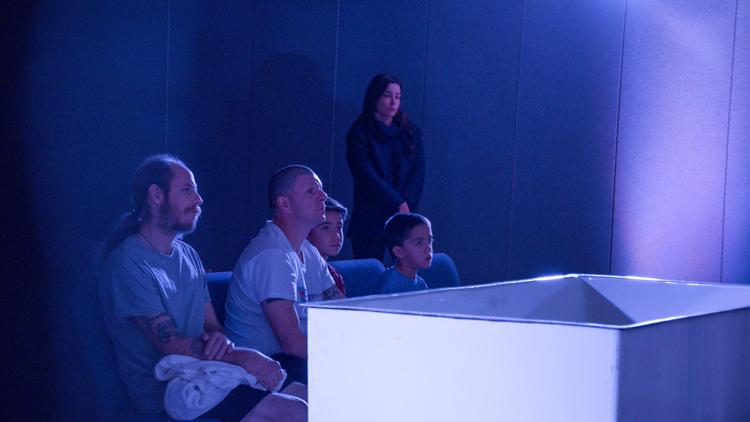 According to Palmer, God saved Esparza after years of prayer by his mother, Stephanie Esparza. Another church member, Chris Chappell, gave him a ride to and from church for several weeks. Esparza's salvation took place following a sermon by Rio's children's director, who shared his testimony and previous experiences with depression and suicidal thoughts. Esparza, who dealt with experiences similar to those shared, came forward during the church's altar call. During a December 2019 worship service, Palmer shared that Esparza had thrown away Wiccan paraphernalia to follow Christ completely.
God saved Santino and Marcelino during a separate worship service at the church several weeks after their uncle's salvation, Palmer said.
Anchor Church served as Rio's sending church. Baptist Convention of New Mexico president, Jared Bridge serves as pastor of Anchor. During the Jan. 6 service, Palmer, reflected on Rio's time with Anchor, saying, "Anchor Church did so much for us. They really did bring us in and teach us how to set up and tear down in a school, because they knew we weren't going to have a whole lot of money or a whole lot of assets at the start. They walked us through all of the things we were going to have to do to ... become a church [including] bank accounts and bylaws and all of that fun stuff. They provided space and time for us as a team to gather and to pray and to dream."
Rio's core team began meeting four years ago in a yogurt shop in Albuquerque's Old Town. Eventually, Rio outgrew the storefront and began renting space at nearby Elite Sports Academy, where the church held its first official service on Jan. 7, 2017. Rio currently meets at Reginald Chavez Elementary School.