ALBUQUERQUE (BNM) - On Saturday, July 31, 16 men from Del Norte Baptist Church, Albuquerque, converged on the Villas Esperanza apartment complex to repair and give away bikes. The effort was an outreach project of the church to the apartment complex.
The volunteers encouraged children to bring their own bikes if they needed any repairs. But, the biggest hit of the day was the 16 bicycles that the church furnished for children and younger teens. Church members, community organizations and private individuals donated the bikes. Some gently used bikes needed new tubes or tires, brakes or chain adjustments. Most required no more than simple maintenance and air for the tires.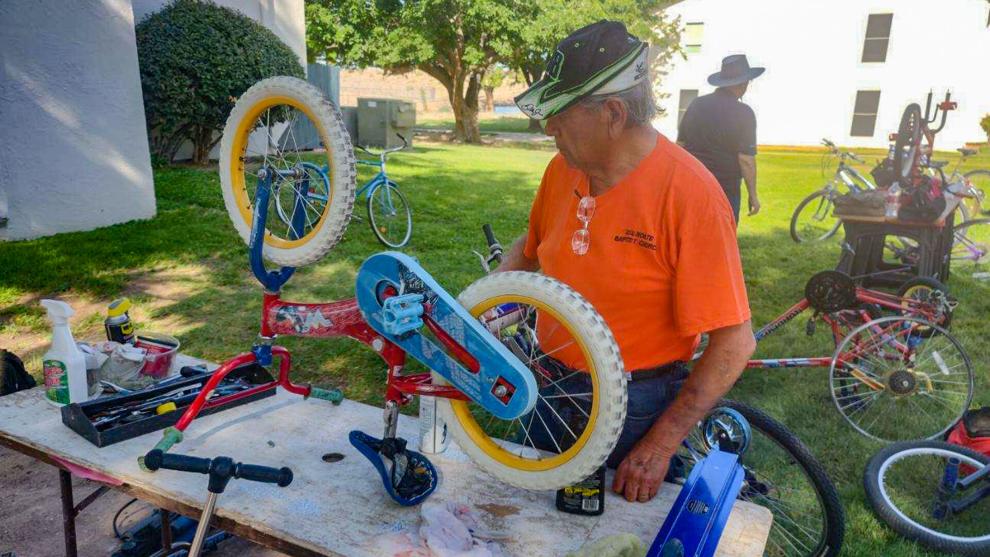 In just three hours, many apartment residents visited and were extremely appreciative of the offer by the church.  The church required parental approval for their child to receive a bike. The parents and children had the opportunity to pick the bicycle they wanted from the selection the church provided.
The volunteers also invited the families to the church's annual End-of-the-Summer event on Sunday, August 15. The event includes an inflatable water slide, bounce houses and a dunk tank. Del Norte also uses this End-of-the-Summer event to enroll the children (and parents) in choir programs, Sunday school/Bible study and mission study programs.
Steve Echols supervised the bike repair work. He collects gently used bikes, repairs them and gives them to worthy causes such as the one sponsored by Del Norte. He donated five bikes he previously repaired before the event.  Echols says, "This is a way I can give back to the community." Not only did he donate the bikes, but he also joined the Del Norte group by bringing his own tools and bike replacement parts. His repair experience was invaluable, as he "really knows his way around bicycles."
The Bike Repair Fair idea came out of a brainstorming session with the church staff and their Evangelism Steering Committee. Before approaching the apartment management with the request for the project, several members of Del Norte did a prayer walk around the apartments. A few days later, Rosales and Kevin Warner, Del Norte's growth pastor, went to the office to ask permission to hold the event. 
The new manager was a familiar face. He had allowed Del Norte to work with another apartment complex before the pandemic halted that work. The manager recognized Warner and gave the church the "go ahead." He asked if the church wanted to do the same with three more complexes he manages. The men said they felt that Almighty God went before them and prepared the way.
Roy Rosales and Ricardo Rivera, the Baptist Convention of New Mexico's Hispanic strategist, identified the Villas Esperanza Apartments as having a high concentration of Hispanics. Rosales is Del Norte's pastor to their Spanish-speaking congregation.
After the workers cleaned up the area and gathered their tools and parts, one of the men remarked, "As I was driving away, three boys were riding their newly-acquired bicycles on the sidewalk. All wore big smiles. My joy was overflowing."