CLOUDCROFT (BNM) - The second annual Father and Son Camp at Sivells Baptist Camp, June 27-29, drew 43 fathers, 65 sons and six granddads. The Baptist Convention of New Mexico planned and offered the camp.
Jody O'Briant, pastor at First Baptist Church, Jal, served as the camp's pastor. He explained what "being a dad" means. He also shared his testimony about being a small child when God brought a godly stepfather into his life. O'Briant and his two sons were attending the camp for the first time. 
Rick Brittain, The BCNM's northern New Mexico regional missionary, and his son-in-law Phillip Smith, pastor of First Baptist Church, Socorro, led the camp music. They encouraged the campers to "sing like men."
After registration Thursday afternoon, campers picked out Pinewood Derby racers and received sandpaper to prepare them for painting. Campers also attended a basketball clinic led by Josh Prock, Eastern New Mexico University's basketball coach, who attended with his son. The "Poach Coach Trailer" from the New Mexico Game and Fish Department was open during the afternoon, too.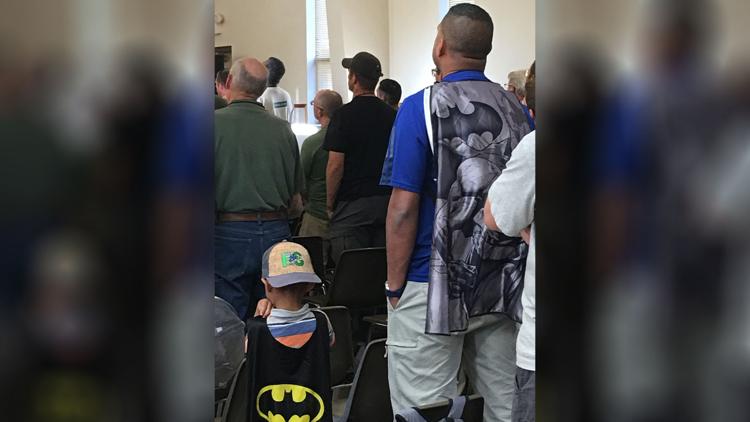 The three-day camp offered other activities, as well: riflery, archery, rock wall climbing, and the Rock Shop. New Mexico Game and Fish Department staff facilitated the archery activities. Sivells Camp staff opened the rock wall during one of the breakout times. Campers also enjoyed time around campfires on Thursday night with s'mores.
Dr. Joseph Bunce, the BCNM's executive director and lead missionary, served as camp director and oversaw riflery activities. The top shooters in each category received awards. Reflecting the camp's generational aim, Bunce's riflery assistant, Chris Duncan, attended with his son, son-in-law and two grandsons.
Taos' Todd Bowman opened the Rock Shop and brought his son, Justin, to help. Most of the campers had never made jewelry before. 
John Hinze, pastor at First Baptist Church, Tucumcari, guided campers in preparing their race cars. The fathers and sons meticulously prepped their race cars by sanding, painting, trimming and strategically placing weights in the racers. 
The camp's Pinewood Derby race ran on Saturday morning. Hinze's church allowed the camp to use its racetrack. Boys raced each other in two different age groups. The top three finishers in each group received awards. The boys also competed against their dads and granddads in a fun race after Friday evening's worship.
Andy Peck, a chaplain at Kirtland Air Force Base, brought a group of 86 campers. One campers' father flew in from another state to spend the weekend with his son and grandson.
Campers of one family, the Davis family, spanned four generations. Mason Davis, pastor of Bethel Baptist Church, Deming, arrived with his son, Mason Jr. Davis' father, Don Davis, who had been recently volunteering at the camp, was also attending. Then, Steve Davis, Don's dad, arrived unexpectedly to surprise them all. Don and Steve Davis are from Portales.
John Pugh, from Portales, recalled one of his favorite things about the weekend: "Seeing my grandson, Jonathan, climb the rock wall after not making it until the third try," he said. "He did not give up!" 
Several attendees complimented Sivells' food and facilities.