MAYHILL (BNM) - Mayhill Baptist Church nearly doubled their Lottie Moon Christmas Offering goal and exceeded their December 2019 budget requirements after the church's pastor, Matt Henslee, agreed to shave his beard if the church met the two goals. In total, the church raised $26,824.62.
In a phone interview with the Baptist New Mexican, Henslee said that in the past, Mayhill often missed meeting their monthly budget during months when the church raised funds for the North American Mission Board's Annie Armstrong Easter Offering, the Baptist Convention of New Mexico's Mission New Mexico Missions Offering and the International Mission Board's Lottie Moon Christmas Offering.
To motivate his congregation to give to both causes, Henslee came up with a creative solution. "I thought this year at the end of the month or the end of the year, I'm going to set the goal - our normal goal. But, if we meet that and our budget, then I'll shave," he said. Henslee announced his plan during an October 2019 church business meeting.
To track each fundraising goal, members of Mayhill created a fundraising thermometer shaped like a beard, with a line down the middle to distinguish between each target. On one side, the church listed a range from zero dollars to $2,500 for LMCO. On the other side, the church listed a range from zero dollars to $16,000 for their December budget requirements. As funds were collected, members filled in the beard with orange paint to match the color of Henslee's beard.
While the majority of the money raised came from within the church, Henslee said that the church raised several thousand dollars through Facebook and Twitter. "It just kind of took off," he said.
In November 2019, Henslee's beard was praised on Twitter by Christian author and speaker, Beth Moore, who responded to an unrelated tweet by Henslee, saying, "Well, I can tell you this. Your beard is the best I've seen on Twitter tonight. Especially on this thread."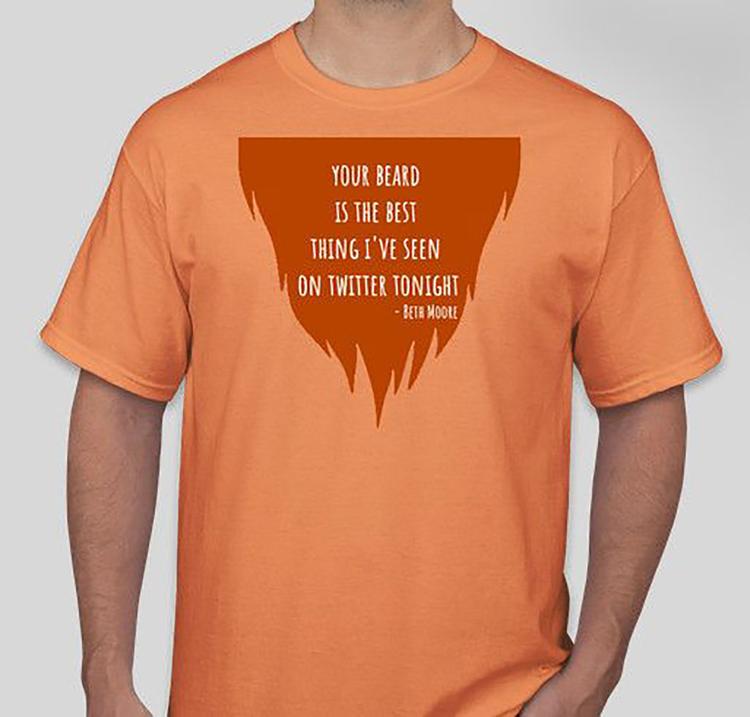 Henslee printed T-shirts with Moore's quote on them and sold them, with all proceeds going toward Mayhill's fundraisers. According to Henslee, the T-shirt campaign raised approximately $1,000. Henslee also sought donations via Facebook. Mayhill received and additional $1,090 from that effort. A church member also offered a matching gift, according to Henslee. Ultimately, Mayhill raised $5,000 for LMCO and $21,824.62 for the church's December 2019 budget.
Reflecting on the success of the fundraisers, Henslee said, "it was neat how God worked through something as silly as a beard to get people inside and outside of the church working together ... for international missions and the missions that we do in our own backyard."
A Culture of Giving
In 2019, Mayhill forwarded 53 percent ($91,502.22) of its annual budget to missions work outside of the church. Of that total percentage, the church forwarded eight percent ($11,962.73) to "local outreach," 30 percent ($51,536.65) to "Advancing the Kingdom" causes and 15 percent ($28,005.84) to the Cooperative Program. According financial documents provided by Henslee, local outreach includes the Mayhill's evangelism, Good Samaritan, outreach, and gift funds. According to the same documents, "Advancing the Kingdom" causes include LMCO, Annie Armstrong Easter Offering, Mission New Mexico State Missions Offering, Mountain Valley Association, New Mexico Baptist Children's Home and Family Ministries, Sivells Baptist Camp and Retreat Center, Tinian Baptist Church, Denton Bible Church, Pioneer Bible Translators, various church plants, and two missionaries. 
Henslee said that he talks to his congregation frequently about the Cooperative Program. "Often, I try to remind the folks … why we give. We're not giving to the Cooperative Program; we're giving through it so that we can train up more pastors [and] we can train up more missionaries. We fund them [and] we can fund church plants," he said, adding, "When you take some time to put some faces to the dollars that you're giving, I really think people get on board with it a lot quicker because they [see] the face. When you can have a church planter come and talk to your church or have a missionary come, or [you play] videos, it's a chance for them to see what that dollar bill, or that hundred dollars, or five hundred dollars or whatever it is, is going to accomplish."
Henslee encouraged other pastors to "think for a while of ways to creatively engage your folks to give sacrificially," adding, "I think we take ourselves too a little too seriously at times." While Henslee described his beard as "a built-in fundraiser" on his chin, he believes other pastors can find creative ways to motivate their congregation to give.
Henslee said he might "invest" in the beard and let it grow out for the 2020 LMCO next year or another year.