RIO RANCHO (BNM) - Awaken Church, a new church plant, launched Aug. 2. The church's planter, Matt Flores, explained that Awaken Church began with losing a ministry opportunity. But, he seized the moment to see what God had planned.
On a Sunday afternoon in early August, Flores stood in the middle of CrossFit Rio Rancho, clad in a black t-shirt, khaki shorts and athletic shoes. After a moment, he stepped onto a plyometric exercise box with a Bible in one hand and a microphone in the other and began to read from Ezekiel 37.
In May, with the COVID-19 pandemic still in relative infancy, Sagebrush Church conducted an organizational restructuring. Flores, a student minister at the church since 2015, lost his job. He spent the next four weeks praying and discerning God's next step for his ministry. Eventually, he felt God leading him to plant Awaken Church in a Rio Rancho CrossFit gym.
According to Flores, this moment of clarity came early one morning as he sat atop Rio Rancho's Loma Colorado overlook and looked across the Albuquerque-Rio Rancho cityscape. Scanning the valley, he was reminded of the valley of dry bones in Ezekiel 37. In a video testimony, Flores recalled, "With this passage, I realized that there are many people who say they follow Jesus, but they have never truly heard the voice of God. They have never truly known Jesus as their Lord and Savior. And, they have never truly lived for Him either. I said, 'God, I'm available to help make that message and that lifestyle a reality to anyone and everyone who would be willing to accept that message." Flores told the Baptist New Mexican he was "thankful and grateful" for the Sagebrush's restructuring because it led to him embracing God's call to lead a church.
Once he felt confident that church planting was God's next step for his life, Flores called an old friend and former church planter for advice on beginning the process. Flores' friend encouraged him to contact the Baptist Convention of New Mexico. Within a half-hour, Flores was speaking with Scott Wilson, the BCNM's Missions Mobilization Team leader. 
Wilson set up a meeting with Flores, North American Mission Board Church Planting Catalyst Chad Spriggs, Central Baptist Association Director of Missions John Torrison, and church planters Jared Bridge and Jeremy Hickman. Wilson and the other men listened to Flores' story and walked him through the church planting process.
Typically, the church planting process takes between six to eighteen months from concept to launch. Awaken Church held its first official service on Aug. 2, a little more than three months after Flores felt God leading him to plant. Flores joked, "It feels we're falling out of the air and trying to build an airplane as we hit the ground." Despite a brief planning stage, Awaken Church has already outgrown a single service. Approximately 186 people attended the church's first official service. By the following week, Awaken expanded to two services to accommodate growth while adhering to New Mexico's social distancing guidelines.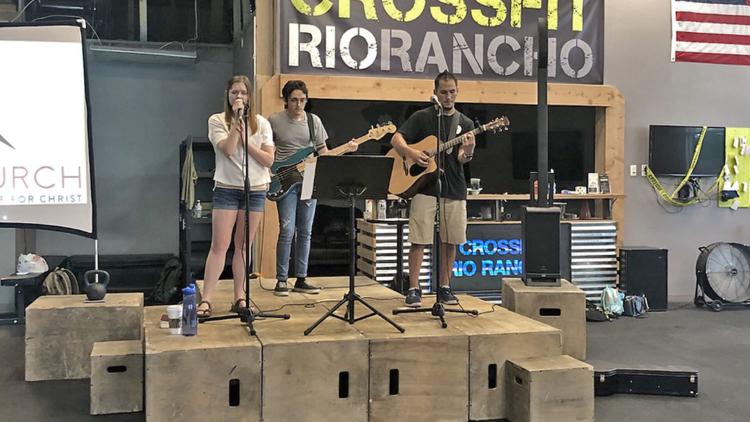 Awaken Church currently meets at CrossFit Rio Rancho, where Flores also works as a CrossFit coach. Crossfit is a branded workout program that emphasizes high-intensity interval training, powerlifting and other strength training exercises. Flores said that when he approached the owners of the CrossFit Rio Rancho about meeting in the gym's main room, known as the "CrossFit Box," they "emphatically agreed," calling the idea "rad."
To convert the space for use as a church, Awaken volunteers positioned several plyometric exercise boxes to form a stage. The large garage doors on the side of the gym were opened to let in air and sunlight. "It was just cool to see. There are ropes hanging, and there are rings and stuff like that. It smells like a gym, a CrossFit gym," Flores said, adding, "It was just funny to think that a place where I do a lot of life at was the place that God wanted [me] to do a little bit of different life as a church."
Flores hopes to use Awaken's relationship with the gym to share the Gospel and love people. "The beautiful thing about CrossFit people is they know how to suffer really well, because CrossFit sucks. But in using that, it's such an easy onboarding for them to see that the way that Christ suffered was for the greatest good. And, looking at CrossFitters, they know how to suffer, and they know how to suffer for the greatest good, whether it's another rep, or another round, or a bigger weight, or a heavier weight, or whatever. And so, … just saying, Man, God could use you, and God wants to use you, and you're surrendering to suffering is not a far off step from going 'God, whatever you want me to do.'" Flores added, CrossFit gyms "have a good understanding of what community is, and what it looks like … It's a beautiful picture of what the church should be and could be."
Awaken Church meets each Sunday at 4:00 p.m. and 5:30 p.m. at CrossFit Rio Rancho. The church encourages attendees to wear masks and practice social distancing. Church plants like Awaken are funded in part through the generosity of New Mexico Baptists and the Mission New Mexico State Missions Offering. Learn more about the offering at www.bcnm.com/missionnewmexico.