ALBUQUERQUE (BNM) - The Baptist Convention of New Mexico's children's evangelism conference, Young Lives Ablaze, held its 11th event in New Mexico on April 6 at Eastern Hills Baptist Church. Twenty-nine churches participated, bringing more than 500 children, sponsors and staff. 
The conference accomplishes more than sharing the Gospel message with children. It also encourages children who are already Christians to share their own faith with their friends. The event helps children to grow in their faith as well and lets them see hundreds of other kids who are also learning about their relationship with Christ. 
The YLA planning team chose the theme "Rooted," based on Jeremiah 17:7-8, to teach children how to become "rooted" in their faith. The event's logo reminded children that Jeremiah 17:7-8 explains how Christians bear fruit, have confidence, have no fear, have no worries and learn to trust God when they are rooted in Christ.
This year's YLA program started with a worship service, with music led by Joshua Alvarado of Colorado Springs. Alvarado is from Albuquerque and has served on the worship team of an Albuquerque church plant. Keith Coast, from Oklahoma, delivered the message. Coast and his family are children's evangelists who share the Gospel with children through humor and stories. Coast invited children to trust Jesus as their Savior. Six children and one adult made decisions to follow Christ.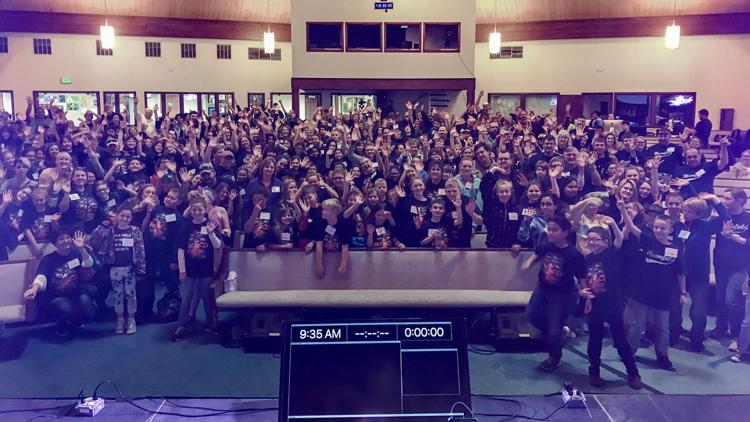 After the opening session, leaders organized the children into two groups. Half of them stayed with their church groups for Bible study while the other half played outside on inflatables. After everyone ate a Chick-Fil-A lunch, the two groups switched activities.
The Bible study explored the event's theme using Jesus' parable about the sower (Matthew 13). It also revisited the Gospel and taught children a useful tool for sharing their faith with friends.
The afternoon session presented The Amazing Chemistry Show with Josh Denhart. Denhart, a former science teacher, used his ability to make things foam and explode to teach children about the truths of the Gospel. While enthralled at his science experiments, children received another chance to hear the Gospel message.
The day ended with a concert by Alvarado and his band.
Much research about children and salvation describes how most children have their worldview in place by the time they turn nine years old. That reality underscores the crucial importance of teaching children a Biblical worldview so they can understand their purpose and place in God's plan.
Krista Peterson, the BCNM's children's ministry specialist said, "I am always especially thankful to the churches and their sponsors that will give up a weekend to bring kids to this special event. Many churches will come on Friday, enjoy a day at the zoo or at a park, stay at a hotel and make the weekend something of a retreat for [the] children."
Peterson also thanked Eastern Hills Baptist Church, Albuquerque, and their children's staff for hosting the event: Joe Vivian, associate pastor of children and families, and Randi Davis, children's director.
The generous gifts of BCNM churches to the Cooperative Program made YLA possible. The 2020 conference is already scheduled on March 21st for children in grades 3-6.