Individuals filled the area around the podium of Hoffmantown Church, Albuquerque, kneeling in prayer at the close of the first session of the 2021 New Mexico Evangelism Conference. Kie Bowman had just finished preaching on "Praying for More Evangelism." Finishing the sermon, he asked if anyone wanted to recommit themselves to prayer. Emphasizing the need for COVID-19 distancing, he invited respondents to walk to the front area around the podium and kneel before God. Many of the audience walked forward.
Bowman's preaching reflected his typical straight-forward approach to interpreting and applying Scripture passages. That night's message focused on the prayer meeting that followed the apostles Peter and John being arrested and being told the could no longer preach in Jesus' name. They said they could not. Leaving the religious leaders, the two men went straight to a believers' prayer gathering, a prayer meeting. The Bible's account of that meeting was Bowman's text for preaching (Acts 4:23-32).
While continually emphasizing that "prayer meetings change the world," Bowman drew three key ideas from the prayer meeting story. First, he said believers should pray together. He pointed out the use of plural pronouns in the passage and the use of the word together, a word that Acts uses to describe prayer meetings three times before it is used in this context. Second, he said believers should pray for passion. The idea of passion came from the believers' prayers for boldness. And, third, he said believers should pray for power. That power was God's power. In Bowman's Scripture passage, it was manifested in signs and wonders performed in Jesus' name.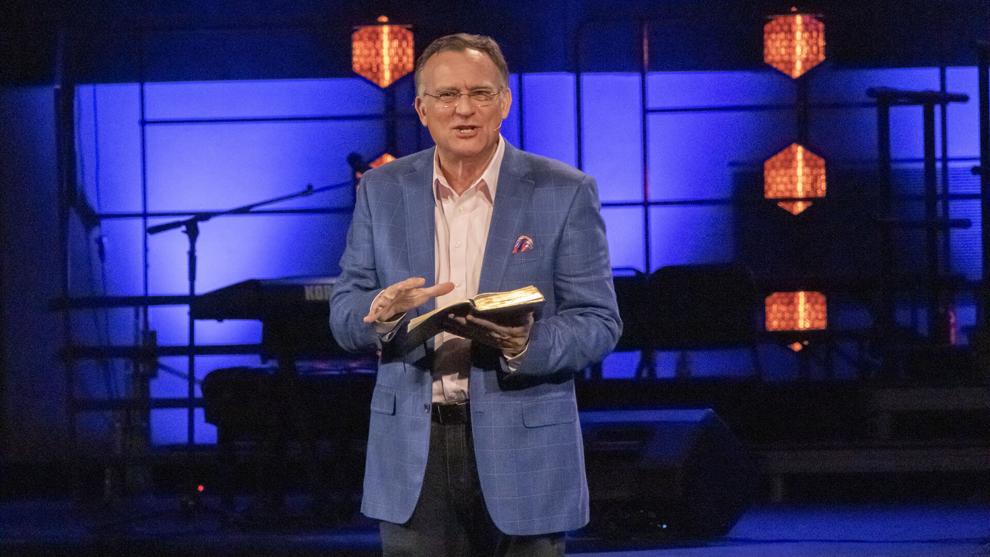 Also typical of Bowman's conference preaching in New Mexico, he illustrated his key points and principles with numerous stories from his life, his friend's lives and from historical characters. He told a story of evangelist Billy Graham saying prayer was the most important element of preparing for an evangelistic crusade. He quoted Lutheran evangelist Armin Gesswein saying, "The early church didn't attend a prayer meeting; the early church was a prayer meeting," and John Knox saying, "Give me Scotland or I die." The first illustrated praying together; the second illustrated passion.
Bowman also recounted experiences of friends and parts of his own life. Telling the stories of a friend in Houston and a friend in east Texas, he explained how conversions and baptisms at both of those men's churches followed ongoing, earnest prayer meetings. Bowman also explained how the same thing happened at Long Hollow Baptist Church in Hendersonville, Tennesssee; salvations and baptisms followed prayer meetings.
Relating personal stories, Bowman shared his concern about becoming complacent after 45 years of following Jesus. He recounted his dissatisfaction with life when he turned 30, watching friends advance in ministry faster than him. "Kie Bowman, if you're not winning souls, what are you doing," he said God spoke to him. Those words shifted his perspective and helped him understand what really mattered to God, he said.
Reaching into history, Bowman told the story of David Wilkerson, author of "The Cross and the Switchblade." He used Wilkerson's story to emphasize how prayer sets events in motion. While he served as a rural pastor in Pennsylvania, Wilkerson had been spending time in prayer every night. During one of those prayer times, God spoke to him about going to New York City to minister to gang members. That evening in prayer changed his ministry and fueled the story that became the book for which Wilkerson is known.
"Prayer meetings change the world," Bowman repeated several times. That was one of several memorable quotes from his sermon. He also emphasized, "Boldness is not a personality type" nor does it come from spiritual gifts, position, authority or wealth. "Let us be willing to say what needs to be said when it needs to be said," he clarified. "When the Spirit of the Lord comes upon you, the unthinkable just seems like the next thing to do."
Bowman said of God's power, "We will never get there [to seeing God's power work around us] until the power of God comes upon us. … The power of God is still available to the praying church."
Finally, while talking about how prayer is essential to evangelism, Bowman asked, "What have you got better than prayer? What have you discovered that is better than following God's design for evangelism." Shortly afterward, he offered his invitation to recommit to prayer and people filled the front of the auditorium kneeling before God.
Bowman pastors Hyde Park Baptist Church, Austin, Texas. He spoke as one of the conference's three keynote presenters. This year marked his second visit as a NMEC speaker. He previously appeared on the program during the 2015 conference, which met that year at the same location as the 2021 conference.
Audio recordings of Bowman's messages at the 2021 NMEC are available online at listen.bcnm.com in the 2021 New Mexico Evangelism Conference album for streaming and downloading. Video recordings of his 2015 messages are posted on Vimeo.com and can be accessed by searching for them by name: "Jesus and the Spiritual Harvest," "An Ambition for the Mission" and "God's Promise of Revival."
The NMEC is an annual ministry of the Baptist Convention of New Mexico. It is provided free of charge to attendees due to the generous giving of BCNM churches to the Cooperative Program.