Frank Page, president and CEO of the Southern Baptist Convention Executive Committee, preached the opening sermon of the 2017 Baptist Convention of New Mexico Annual Meeting. Jay McCollum, pastor of First Baptist Church, Gallup, introduced the SBC leader as a "faithful husband, a responsible father of three daughters with five grandchildren, a graduate of Southwestern Baptist Theological Seminary, a pastor in four states, a former North American Mission Board vice president of evangelism, and the current president and CEO of the Executive Committee."
As he began, Page congratulated New Mexico Baptists for last year's gift of $3.6 million to the Cooperative Program. Since the CP began, New Mexico Baptists have contributed $37,511,335, he said.
As the EC's leader, Page supervises 31 employees who are responsible for public relations, Cooperative Program promotion and Baptist Press. Cooperative Program monies received by the EC are passed on to the mission fields within four days, Page said. He also referred to himself as the SBC's chief encouraging officer.
Some fast facts Page presented include a combined seminary enrollment of 21,155; the International Mission Board is increasing the number of missionaries on the field; the SBC has approximately 50,000 congregations, of which 10,665 churches are ethnic. African American, Native American, Asian, Latino and multi-ethnic groups. He said, "All this work is fueled by CP funds."
Page confessed, "[I] believed in the CP before I was ever paid by it." He explained that Baptists celebrate all mission work, but CP work is more efficient and effective. "We can do more together than alone," he said.
Page shared several examples of the Cooperative Program at work. In Montreal, Quebec, Canada, a 1-year-old church plant runs 700 in attendance and saw 70 baptisms during that year. He said, "The CP made that church plant possible."
The Russian German communities in Germany have eight churches with more than 1,000 members and 75 percent are under 30 years of age. According to Page, "God is not done with the continent of Europe, particularly Germany." This work is also made possible by the CP.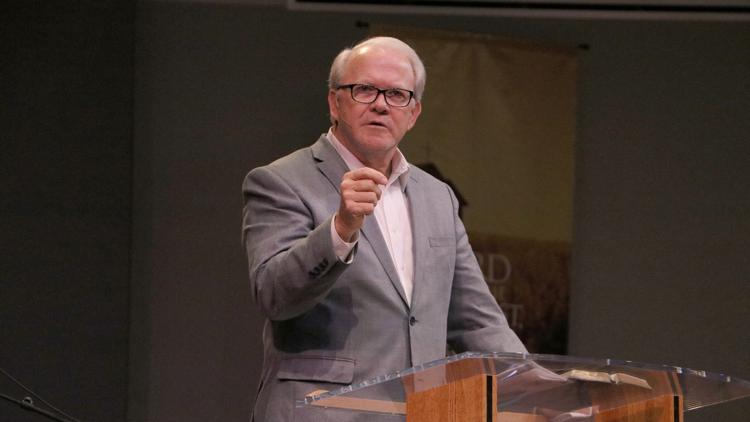 As he preached, Page share four important elements for believers from Isaiah 6:1-8. First, he spoke about contemplation. Pastors should invite people to see the Lord, a touch of heaven, each time they preach. "We need to recapture the sweetness of the presence of the Lord," he said
Second, he spoke about confession. He explained that "every time we come before the Lord, we should realize we are unclean and say, 'I'm sorry.'" Then, he described the third element: cleansing. "God already has the altar coals ready for our cleansing, through the shed blood of Jesus Christ (Hebrews 9:13-14). My sin is forgiven, and my faith is in something that will never change," he claimed. Finally, he described the fourth element with two words: commitment and consecration. Page challenged those listening, "Without this, you have wasted God's time." He concluded by asking, "Will you go?"
Later in the day, BCNM President John Hinze delivered the Annual Meeting's President's Address. Hinze pastors First Baptist Church, Tucumcari. He directed his message toward pastors and acknowledged that some of them may be "going through the fire at this moment." "Reach out," he said. "There are people who will encourage you."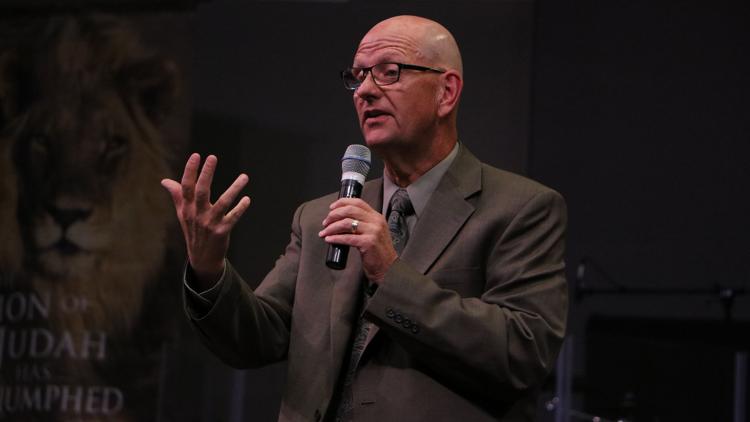 His drew his message from Joshua 24:14-16 and titled it "Family Unique in Confusing Times." Mentioning Gary Smalley, Hinze described the authenticity and transparency his children saw in him as a pastor and father. According to Hinze, Smalley's children said, "Who he was on stage is exactly who he is at home."
Hinze challenged pastors with four instructions to strengthen their families. One, tell your family how valuable they are to you (Matthew 22:37). Two, make an unconditional commitment to them. Three, schedule family time. Four, make yourself available to your family.
"No one ever said it would be easy," Hinze admitted. "Your home is a real treasure."
He finished with Joshua 24:15. Using it, Hinze challenged pastors to lead their families in these confusing times to love the Lord.
After Hinze's message, Keith Berryman, pastor of First Baptist Church, Farmington, thanked the messengers and guests for coming this far distance to attend the Annual Meeting. Then, he closed the session with prayer.