Seventy-five to eighty messengers and guests dialoged with convention leaders about the Cooperative Program at a reception during the 2017 Baptist Convention of New Mexico's Annual Meeting
After the Annual Meeting's Tuesday evening session, the Southern Baptist Convention Executive Committee sponsored a Cooperative Program Reception. Dessert and drinks were provided by the New Mexico Baptist Children's Home and Family Ministries. All Annual Meeting messengers were invited. The reception gave participants an opportunity to ask questions about the CP.
According to the Southern Baptist Convention website, sbc.net, "The Cooperative Program is Southern Baptists' unified plan of giving through which cooperating Southern Baptist churches give a percentage of their undesignated receipts in support of their respective state convention and the Southern Baptist Convention missions and ministries."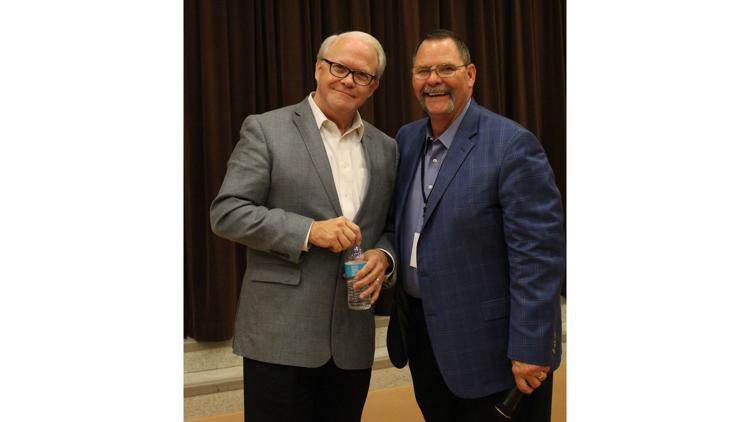 Both Frank Page, the Executive Committee's president and CEO, and Joseph Bunce, the BCNM's executive director, spoke during the reception's program Tuesday night at the close of the annual meeting's evening session. They fielded a variety of questions about financially supporting Baptist convention ministries at both the state and national level.
Dr. Bunce commented on New Mexico CP giving, stating that "As a convention, we are moving forward. 2008 was our best financial year. Then, five years ago, we declined. But, [we] are now on the rise."
Page said, "We always appreciate anything the state passes on to the national program. When 42 state conventions join together, whatever their resources, it makes up the national program." Thanking churches who gave to CP, Page said, "We know you're doing what you can do to reach your state for Christ. If churches giving now went up 1 percent it would put 100 million more dollars next year in the national budget and the mission field. We're in a good financial position and we thank God for that."
Page shared his reason for supporting the Cooperative Program, saying, "I have both personal and pragmatic reasons why I support the Cooperative Program. Personally, I support it because I believe it's the most efficient and effective way. But, [I] also [support it for] pragmatic [reasons]. The SBC is made up of small churches. We have approximately 50,000 congregations. Of those, only 169 average over 2,000 in attendance. The Cooperative Program gives every church—no matter how big or small—a seat at the table." "Everybody has a part," he said.
Page explained, "The way we do missions now is a fully funded source." He described how missionaries sent out by Southern Baptists face no need to raise their own funds. "Fifty thousand dollars pays for travel overseas, medical, everything," he said.
Once the men began answering questions, one guest asked about retirement funds and insurance for pastors. Page said that "insurance will always be provided." GuideStone Financial Resources of the SBC offers both retirement and health insurance plans to pastors and staff in SBC churches. According to the agency's website, GuideStone "... proudly serves more than 220,000 participants in close to 38,000 churches, mission sending agencies, educational institutions and other related ministries around the world."
Beyond paid plans, Guidestone also extends compassion assistance through its MissionDignity program. GuideStone's website states that, "Since 1918, GFR has been on a 'Mission' to provide 'Dignity' to retired Southern Baptist ministers, workers and their widows." The program targets very low income retirees and widows. It is fully funded by donations, not by CP."
In other matters, Bunce shared that the BCNM is "running a little behind on the Mission New Mexico Offering, but it's the Lord's money and I'm not worried." As of Oct. 19, he said the state has received $146,013 toward the MNM offering. Up-to-date giving totals for the offering are available online at bcnm.com/missionnewmexico.
Bunce shared how CP gifts retained by the BCNM are used in its Ministry Budget. After listing the percentages for particular ministries, he offered for guests to request a printed copy of the breakdown, if they desired.
Breakdown of BCNM Ministry Budget
5.7% - Evangelism and Revitalization
6.6% - Leadership and Discipleship
9.7% - Information Services
14.0% - Collegiate Evangelism and Discipleship
15.2% - Camping Ministry
7.3% - Missions
4.7% - Ethnic Evangelism and Discipleship
8.4% - Church Planting
4.4% - Youth Evangelism and Discipleship
6.5% - Rural and Smaller Membership Churches
3.4% - Pastors' Retirement
9.5% - Administrative
Bunce closed the reception by thanking churches and reminding messengers that they would have a chance to vote on some items in Wednesday morning's business session.