Forty-seven people showed up to run or walk in the Missions 5K race to support the Mission New Mexico State Missions Offering. The race was one of the activities of the Baptist Convention of New Mexico's 2017 Annual Meeting in Bloomfield.
The race was held at Berg Park in Farmington along the Animas River at 5 p.m., Monday, Oct. 23. Participants varied in age from 8 to 70 years old. The BCNM's own Missions Mobilization Team Leader Scott Wilson ran along with his wife, Serena; two daughters, Kylie (14) and Kennah (9); and his son, Kaleb (15). Kaleb placed first in overall time.
When asked why the MMT chose to hold the 5K race, Wilson stated, "We wanted to do something different to help raise money for New Mexico Missions. In the past, a banquet had been held, and we thought this would be a fun way to give churches, families and people in the community the opportunity to get involved." The Mission New Mexico Offering supports New Mexico Disaster Relief, hunger ministries, adoption ministry and other statewide ministries. All proceeds from the 5K will directly help those efforts.
Farmington High School's cross country team helped at the race by keeping runner times. In return, the team earned funds for their cross country program from 5K event sponsors: Integrity Dental, TechnaGlass, Joy of Advertising, BCNM, First Baptist Church Bloomfield, and Emmanuel Baptist Church in Farmington.
Seven BCNM staff members participated in the race. Two placed first in their age division, Dag Sewell, the BSU Christian Challenge director for Eastern New Mexico University in Portales—part of the BCNM's collegiate ministries—and Krista Peterson, BCNM associate director of children's leadership development, partnership missions, and women's ministry.
Cricket Pairett, ministry assistant on the missions mobilization team of the BCNM said the MMT would "do it again and most likely have a shorter race for the younger participants." At the park's River Reach Terrace, the BCNM's MMT provided snacks and drinks for all participants and presented awards to those in first through fifth place in overall time as well as those who placed first in their age division.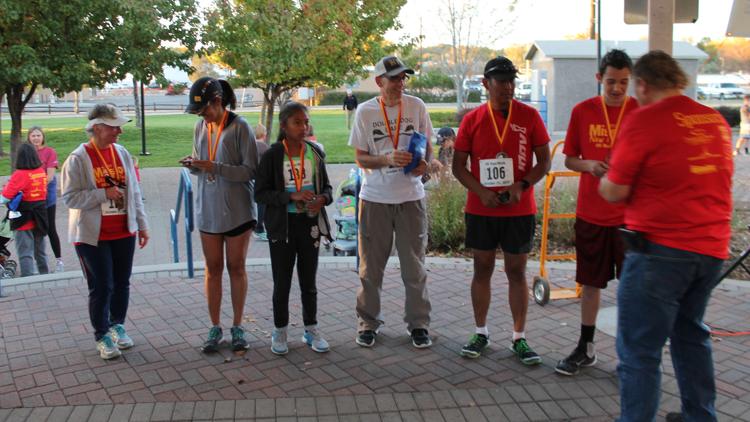 Race participant Shirley Edwards, age 70, drove five and a half hours from First Baptist Church, Datil, "just for the walk and to try something different. I've started walking again and thought this would be good to do before the annual convention starts tomorrow." Shirley crossed the finish line with a smile and said, "The walk was good; it's a lovely park, and they did a good job marking the trail." Shirley won first place in her age division.
The youngest participant at 8 years old, Jude Spriggs, ran the race alongside his mom, Deanna, dad, Chad, and his sister Annalise (12). He thought the race was "fun" and shook his head up and down to say, "Yes," when asked if he enjoyed it. Deanna expressed pride for her daughter stating, "I'm so proud of her, she's learning to love running." Chad is a North American Mission Board church planting catalyst for the BCNM.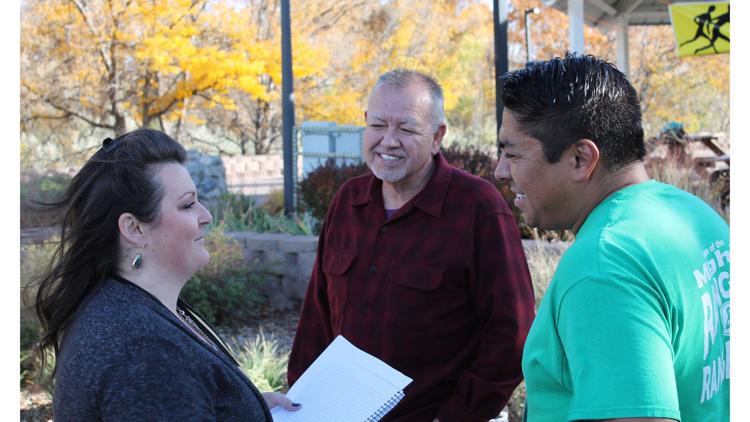 The race, while being for fun, also prompted competition among pastor friends: Matt Henslee, pastor of Mayhill Baptist Church, and David Herrera, pastor at Mora Valley Baptist Church, Cleveland. The BNM talked with both men. When asked why he was running today, Herrera stated, grinning, "To beat Matt Henslee." He went on to say that he used to run and wanted to "get inspired again" and thought this was a great way to do it while helping raise funds for New Mexico missions. Henslee also expressed his desire to beat Herrera. Henslee succeeded by placing first in his age division and crossing the finish line in fifth place.
Participants crossed the finish line to cheers, whistles, high fives and hugs from their families. Three of those cheerleaders belonged to Stephen Baum, pastor at FBC West Albuquerque. They were his three daughters, Abi, Olivia and Ellie. They held up signs on which they had drawn pictures in support of their "Daddy." Three-year-old Olivia told her dad before the race, "Daddy, if you run fast, you'll win the prize." Stephen told his wife and children, "I could hear you all cheering when I was getting close to the finish line, and it gave me the extra drive I needed."
As an activity in advance of the BCNM Annual Convention, the 5K adapted the Annual Meeting's theme to fit the run, "Family Unique in Confusing Times" by uniting families through running/walking together and supporting each other along the way. Just before the awards, Steve Ballew, pastor of Emmanuel Baptist Church, Farmington, delivered a message from 2 Timothy 4:7, "I have fought the good fight, I have finished the race, I have kept the faith." He encouraged participants to ensure they are "crossing the right finish line, the one that Jesus has provided."