CLOVIS (BNM) - In his opening remarks at the joint meeting of New Mexico WMU and Pastors and Mens Conference, Paul Chitwood, president of the International Mission Board, brought greetings from 3,700 missionaries and 2,280 missionary kids serving across the globe. He thanked New Mexico Baptists for their generous Cooperative Program giving, for leading churches to go to the nations and for giving to the Lottie Moon Christmas Offering. He thanked WMU for its "ground-gaining" by missions to the nations. He also thanked New Mexico Baptists for prayers of advocacy and for those who went on mission trips as volunteers. 
In giving the big picture of IMB, Chitwood referred to Revelation 7:9-10. In 2009, IMB adopted that scripture as its vision statement because it is not ours to pen but is the Lord's, Chitwood said. He reassured the group that it is still the IMB's vision. "With or without us, that vision will be fulfilled," he said. "Lets us be a part and drives us forward. Don't lose sight of the vision."
Chitwood explained that IMB desires to leverage its experience to send missionaries to help others send missionaries. For example, he explained, Africa is home to the most Christians in the world. "IMB wants to leverage Africa's capacity to send, not only taking the Gospel to unbelievers but helping to send others out. It takes globalization and urbanization to access the unreached and unengaged people groups to finish the unfinished task."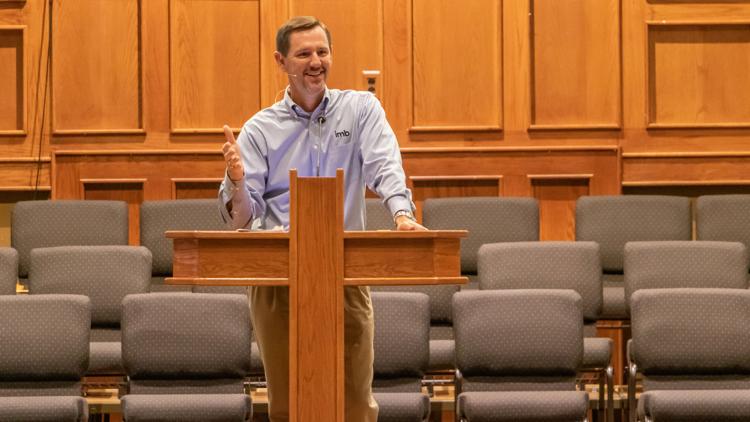 Baptists have just scratched the surface of their potential mobilization of the Gospel, he said. IMB is casting the vision and challenging churches to become involved, to teach churches through associations and conventions, to connect to the IMB.
In 2020, IMB will celebrate its 175th anniversary, Chitwood said. IMB will invite Baptists to pray for 175 days for the lost world and for missionaries serving around the world. The greatest resource is not giving or going, he said, but it is the Holy Spirit. Conviction, regeneration and salvation are possible only through prayer. "The enemy doesn't like the IMB, and there is intense spiritual warfare because missionaries are pounding on the gates of hell. Pray," he said.
Chitwood explained that, in order to share God's Word, the IMB needs 300 missionary candidates each year. In 2009, churches launched over 600 candidates into the process of being sent. Then, candidate numbers declined. By November 2018, only 82 candidates were in the process. Today, IMB needs over 300.
In March 2019, regional IMB leadership staff from across the world gathered together. Chitwood asked them what they felt was needed. They said Baptists must be challenged to pray for 500 more missionaries in the next 5 years. Chitwood shared, "Everything IMB needs, money and missionaries, is in our churches, sitting in the pews."
In a closing prayer time, Joseph Bunce, the Baptist Convention of New Mexico's executive director, asked all IMB missionaries, past and present, to gather around Chitwood, lay hands on him and pray. Bunce asked the congregation to also pray in small groups and ask God to raise up people, provide money and other resources and "break the chains of hording finances."
Editor's note: Listen to Paul Chitwood's full address at listen.gobnm.com.