The 2017 Pastors' and Laymen's Conference met Tuesday morning in the chapel at First Baptist Church, Bloomfield. Conference President Aaron Colyer, pastor of First Baptist Church, Roswell, explained how his vision guided him through planning the conference for the past two years. Then, he asked for nominations for the next president. He offered the name of Nathan Sherman, co-pastor of Christ Church, a church plant in Albuquerque. Nathan received a nomination and second from the floor and was unanimously elected by the 84 attendees. Bryant Jones, Music and Missional Communities pastor at The Hallows Church, Seattle, Wash., led the group's worship sessions.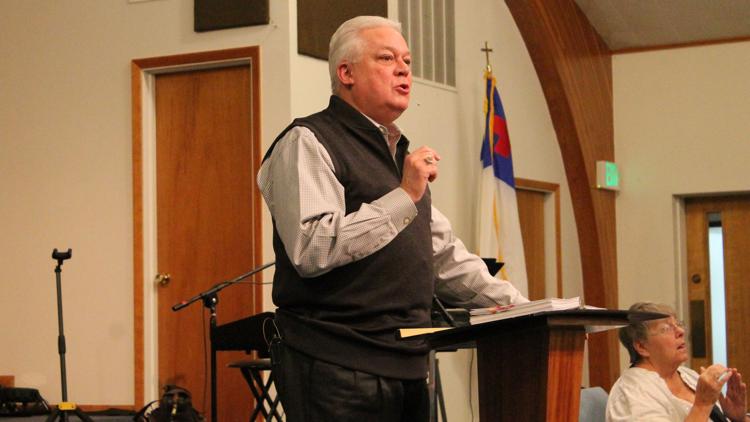 Following the conference theme, Michael Catt, senior pastor of Sherwood Baptist Church, in Albany, Ga., led the teaching sessions. He described the challenges that his community had faced: the loss of major industry and increases in poverty and crime. Yet, he also described how his church and its ministry grew to impact the community and continues growing.
With a heart for revival, Catt founded the ReFRESH conference. According to its website, ReFRESH leads pastors and lay leaders to seek the face of God through focused times of corporate worship and prayer, along with biblical teaching on revival. Catt shared several pieces of that ministry with the men at the Pastors' and Laymen's Conference.
Catt titled the first teaching session "The Power of a Praying Church" and based it upon Acts 12:1-12. He explained how Peter was imprisoned and awaited execution after Passover. But, Jesus told Peter in John 21:18 that his death would come when he grew old. So, in Acts, Peter appears unworried, sound asleep, awaiting the intervention of God. In fact, Catt emphasized, Peter slept so soundly that the rescuing angel had to strike Peter to wake him up.
Rather than use civil or social actions to help Peter, the early church relied on prayer. Catt emphasized that the early church prayed to God and that they prayed for God's will to be done, not merely for their own desires. They also prayed fervently, he noted. Catt explained how the original word translated as "fervently" was as an athletic term used for stretching. He urged those in attendance to apply such "stretching fervency" to their own prayers. He also drew attention to the way the church focused their prayers on Peter and his need for rescue, avoiding other distracting issues.
Catt guided churches to evaluate their prayer ministries based on three levels developed by Doug Small, of Project Pray. The first level, crisis prayer, limits prayer to something a person needs. Crisis prayer is not kingdom driven. The second level, church prayer, undergirds an existing ministry. For example, a choir may pray before a worship service. The third level, guiding prayer, guides a churches decisions and ministry. For churches practicing guiding prayer, prayer has become the DNA of the church. With guiding prayer, churches have clear expectations and pray for God's movement to direct ministry decisions. Catt challenged the attendees to focus prayers upon people in a church's nearby community who possess the greatest ability to transform the community.
Catt titled the next session "Concert of Prayer." It focused on PLC attendees' actual prayer practices. After sharing Samuel Shoemaker's cry, "Lord, revive the church—beginning with me," Catt turned to Nehemiah 1:3-11. There, Nehemiah prayed for revival to visit the desperate situation his people faced. Catt explained, "God is attracted to desperation."
Next, Catt involved the men in the room. He instructed them to form groups of four to five people and to pray among themselves for God to make them desperate for His mighty movement and for God to raise up people who will respond to their prayer.
After the men prayed, Bryant Jones led several worship songs.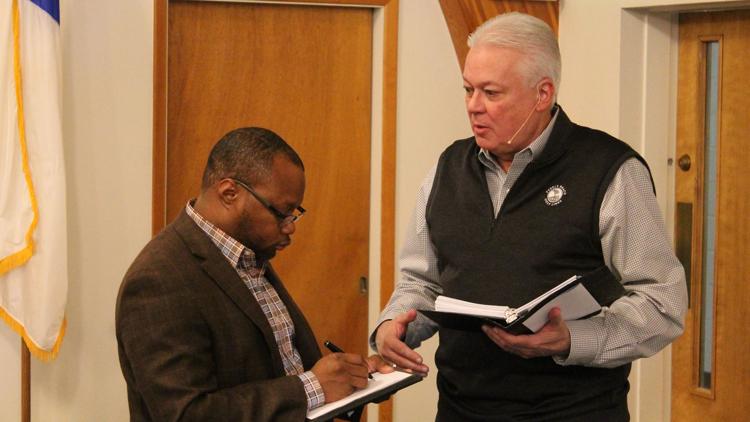 Then, Catt had men pray aloud within the large group. Catt urged them to cry out individually in desperation, praying as if their church, family, or child was under attack. After this specific prayer time and more worship music, Catt described six specific things to pray from Nehemiah 1:3-11. First, pray that we will see as God sees. Second, pray that we will refocus on the Lord. Third, pray that we will be quick to obey. Fourth, pray that repentance will be complete and personal. Fifth, pray for the promises of God. Finally, sixth, pray for a sweeping revival in our lifetime.
At least some New Mexico pastors were moved by the prayer times. According to Brian Nystrom, pastor of Angel Fire Baptist Church, "The hour of prayer that we spent together was very significant, and it reminded me that God's ministers need to spend extended time in prayer, not just for needs, but in recognition of God for who He is, worshiping Him, seeing ourselves in light of that and acknowledging our weakness, inadequacy and sin, then calling out to Him to work in us and through us." Kyle Bueermann, pastor of First Baptist Church, Alamogordo, said, "It was a wonderful time of focused prayer and a great challenge to take back to our congregations to call them to prayer."
Catt concluded the morning with a session about the Jesus Movement of the early 1970s. He suggested that another revival like that will need a group of people who believe that Jesus "wants to do something beyond the norm." Such a movement, he said would be a Holy Spirit movement. Every great movement begins by the Holy Spirit, he continued.
Catt reminded the group that believers today have the same power that was visible at Pentecost. Revival movements are about about Jesus, not about doctrine, he said. The theology of salvation is not as significant as salvation itself. He finally pointed out that the Jesus Movement was about the mission of God. Ordinary people, often new believers, had significant impact for the Gospel during that movement.
Catt described a banner that hangs in his church. It says, "Whoever wants the next generation the most will get them." Catt was saved during the Jesus Movement and shared his passion for reaching children and students to become the next generation of believers. "You need to want to reach the kids in our community so that we can be the church you want your children and grandchildren to come to. If your grandchildren live in another town, you need to pray that there will be a church like that there," Catt said he tells his church members.
Catt closed the morning session by explaining, "I want to reach this next generation for Christ and see a movement of God. When the Jesus Movement crowd dies, there will no longer be a firsthand witness to revival. We need to change that. We can not let that happen!"