Eighty-eight people filled the tables at Tuesday morning's New Mexico Woman's Missionary Union Missions Celebration at First Baptist Church, Bloomfield. Melissa Lamb, who served as the 2017 vice president of New Mexico WMU, was elected during the celebration as the new 2018 president. Edna Romero was elected as vice president. Romero has served as WMU executive director for Santa Fe Association.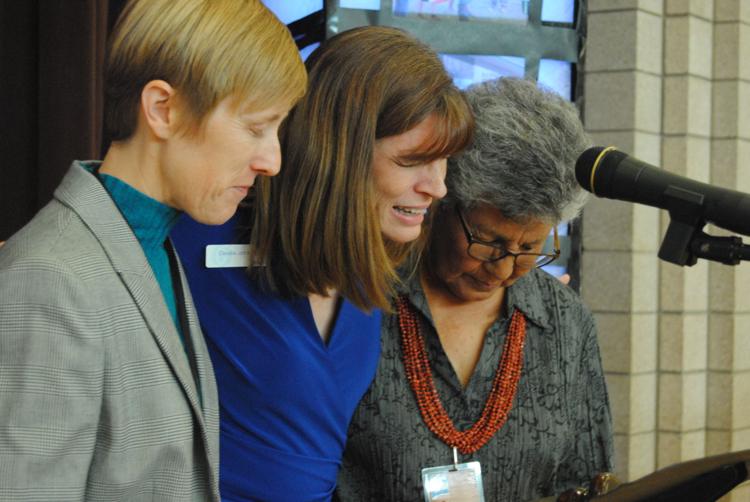 Lamb recalled and expressed appreciation for WMU's 2016-17 president, Paula Hibner, who died on the Friday before the celebration, Oct. 20, on her 63rd birthday after a "long and courageous" battle with cancer. "No one on this earth could throw a party as grand as the one she's having in heaven," Lamb stated. Mason jars sat on each table in memorial of Paula with the letters, "T.T.T." written in chalk. T.T.T. meant "Touch Tomorrow Today." Participants placed donations in the jars for the "Touch Tomorrow Today" endowment that will support New Mexico WMU mission work.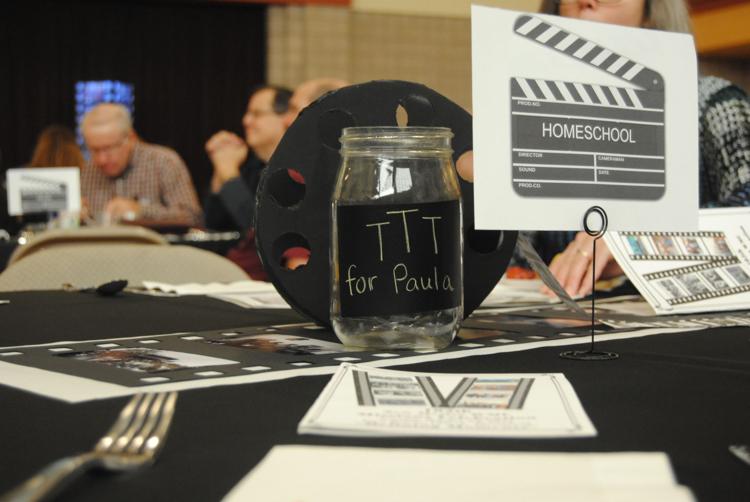 Hibner, from Deming, became president in October 2016. But, in March of 2017, she became too sick to continue her duties as president. Lamb, then vice president, stepped into that role. People shared memories of Hibner. With tear-filled eyes, Connie Dixon, New Mexico WMU director from Elida, shared one of Hibner's last moments of life. She said that on the Thursday night before Hibner died on Friday, Dixon "held her hand" and told her how much she appreciated all her work for New Mexico WMU.
Lamb, who grew up in New Mexico in a "loving Christian family", stated she felt honored, blessed, excited and also sad becoming president. Her sadness came, she said, from the recent loss of Hibner. She shared that the truth of Proverbs 3:5-6 could be seen through the defining moments from her life. Her most recent defining moment, she shared, came from a house fire she and her husband, Beau, and their three children endured. "I turned on my dishwasher and left my home, and the dishwasher caught fire. That was a defining moment." She describe how, through that fire, God spoke to her, "I am in control and will handle every detail, just trust me." Shortly after that fire, the Lord moved them to Santa Rosa where her husband became pastor at First Baptist Church. They have lived for six years in a place where "96 percent of people are lost." "God has proven to be faithful," she said.
The reason WMU exists was summed up by Gordon Fort, senior ambassador for the president at the International Mission Board of the Southern Baptist Convention. In his words, "We exist to send messengers with the Gospel." Fort, who grew up as a missionary kid to medical missionary parents in Africa, shared a message from Luke 14, that "God issues us invitations. There are moments when the invitations are urgent."
Fort recalled the story of a man with whom he shared the Gospel of Jesus. The man said, "I'm not ready yet, I have to clean myself up first, pastor." The man died three days later. Fort shared several of his "defining moments" and encouraged participants to "do whatever we have to in order to accept God's defining moments." "Where you were born, where you were raised and where you are now in your life play a part in the defining moments God has for you," he stated. 
Other guest speakers included "O.N.," from the "last frontier," who serves in a high sensitivity area. O.N. shared a time that, among seven siblings, she felt "insecure" and "empty." One time, she said, she ran to kiss her father's hand when returned home from work. But, he slapped her and told her "Never kiss a man's hand; you don't know where they've been." In college she said she chased "the American Dream," but felt "empty" again. A student in a class she was teaching asked her to memorize Scripture with her. She memorized John 3:16. Then, she began searching for God. That, along with many other "defining moments," led her to a life of missions as an adult, she said.
Claudia Johnson, Missions Resource Center leadership consultant for National WMU, grew up in a small town outside Birmingham, Ala., and served alongside her husband and three children in Bangkok for 28 years before coming to be a part of the Christian Women's Leadership Center. Johnson shared, "Missionaries have defining moments every day."
Ronna Jordan, from Farmington, led worship for the celebration. She founded Houses With Hope, a ministry in Kenya, Africa, that builds houses for widows which, when built, become house church locations. Last year Houses of Hope built 1,749 houses for widows in Kenya. Jordan shared, "We are all missionaries for Jesus."
Dixon gave a "PechaKucha" presentation near the close of the celebration, in which 20 slides are shown for 20 seconds each. In the presentation, she summarized the 2017 WMU year and dreams for 2018. In 2017, the New Mexico WMU's Christian Women and Men Job Corps trained 19 women and one man and has opened up five active CWJC & CMJC sites around the state. Dixon also shared that girls from the state received a combined $5,500 in scholarships. One hundred fifty-eight children participated in the Missions Camp at Inlow Baptist Camp in July, she said, and the camp hopes "for 200 next year." She stated that, for 2018, the WMU is "looking forward to hosting a CWJC training in Albuquerque, an Ethnic Leader Summit in Portales and a Pastors' Wives Retreat" among others."
Randy Rankin, CEO of the New Mexico Baptist Children's Home & Family Ministries, shared several of his life's defining moments that brought him to where he is today and closed out the celebration with this statement, "God's given us all a mission field, we need to go to work."