Worship kicked off the Wednesday, Oct. 25, session of the Baptist Convention of New Mexico's 2017 Annual Meeting, hosted at First Baptist Church in Bloomfield. First Baptist Church of Bloomfield's worship pastor, Daniel Elias, and the church's praise team led messengers. Elias came to the church seven months earlier, in March.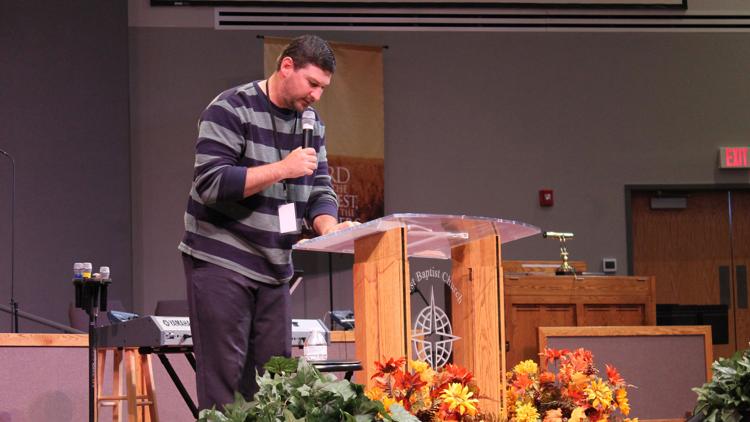 Afterward, Ty Houghtaling, lead pastor at First Baptist Church, Artesia, read Scripture (Deuteronomy 11:18-21) and prayed for the session. He asked God to "help us teach the next generation what it means to be a family united in You." Beau Lamb, pastor of First Baptist Church, Santa Rosa, presided over the session and introduced the speaker Michael Catt for his second Annual Meeting message. Lamb commented, "The movies made by his church have been a blessing to me ...."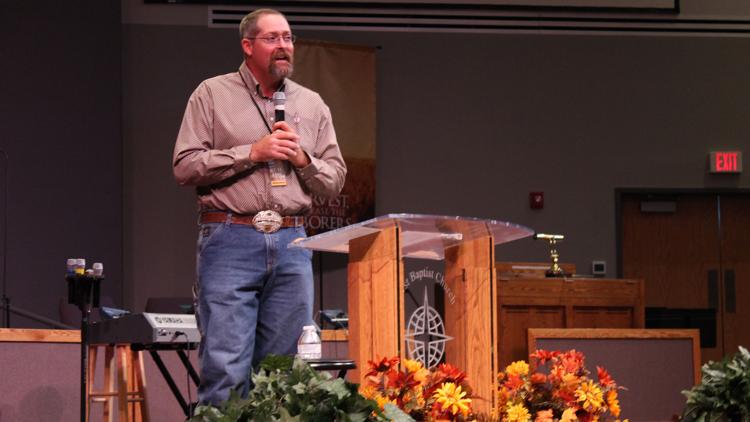 According to the bio on Catt's website, michaelcatt.com, Catt, has served as senior pastor of Sherwood Baptist Church in Albany, Ga., since 1989.
The church claims 3,000 members and averages approximately 100 baptisms each year. The site reports that thousands of people from Albany and the 29 surrounding communities have joined the church. During the church's journey, it has shifted from being a neighborhood church to a regional, multi-ethnic congregation with members from 11 nations.
Sherwood has three campuses that cover 130-plus acres—the main church campus, the lower school campus and the upper school campus. An 82-acre sports complex, Legacy Park, is currently being developed with tennis courts, soccer fields, baseball fields, equestrian center, fishing pond, pavilion and other facilities to reach the community through sports and recreation. Sherwood Baptist Church, the site said, is also responsible for Sherwood Pictures which has produced the movies, Flywheel, Facing the Giants, Fireproof and more.
Catt said that a part of Sherwood Baptist Church's ministry is to "bless and encourage pastors," something he said he hoped to do through his message that morning. His message was titled, "The Battle That Must Be Won." His Scripture was 1 Thessalonians 2-3, a passage written by the Apostle Paul to the church in Thessalonica.
During the message Catt challenged attending pastors saying, "We've allowed sociologists to tell us what our demographics should be. We must define the church by what the Scripture says." He said that too often churches are "trying to build our comfort rather than converts" and that congregations must "learn to do church that sometimes makes us uncomfortable." In reference to putting aside differences and eliminating judgments about who churches will welcome into their doors, he stated, "We must say, 'I don't know who you are, or where you're from but I'm going to love you like Jesus. If there's something about you I don't like, I'll go to the cross and get over it.' " "The church [in Scripture] began behind closed doors and then went out with open doors. They stayed in the house behind closed doors and prayed until the power came," he said.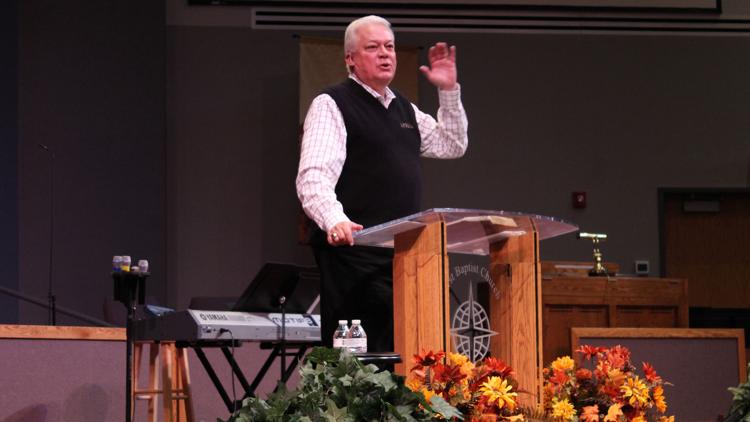 Catt gave three main points from the Thessalonians passage. First, he talked about the "Importance of Winning the Battle." He described an "urgency of the hour" and said that" faith implies faithfulness" to the church. Emphasizing the urgency, he mentioned that 50 pastors per day quit the pastorate in America. Second, he spoke of "The Impediments to Winning the Battle." He admitted to pastors, about their ministry, that "it's going to be difficult; Satan is trying to hinder us every day from doing what God has called us to do—that's not going to change." He said that as preachers pastors have to, "... stand up in front of some who are stone-faced status quo Christians" but that pastors do not preach "to get their attention, [instead] they're preaching to get God's approval."
Introducing his third point, Catt told pastors, "If you quit or walk away, you'll be wasting every prayer being prayed for you." He titled his third point "Incentives for Staying in the Battle." He said of pastors that "people are praying for you, depending on you and examining the legitimacy of your confession. Don't waste their prayers."
Catt ended his message by sharing a story that he heard from Francis Chan. On a mission trip Chan took to China with college students, some students in an underground Chinese church discussed what to do when they were captured or beaten for sharing the Gospel. They asked Chan, "What's the church in America like?"
Catt said Chan described that he had never been so embarrassed in all his life after hearing the stories of beatings these students had endured for the sake of the Gospel. But, he describe for them how people choose to attend certain churches because they like the children's program or because they enjoy the worship, among other things. Hearing that, a 19-year-old Chinese believer replied—holding his Bible out and speaking in a "passion-filled voice"—"Tell me, how did you get that out of this?"
Catt ended the session in prayer asking God for New Mexico's churches to have a heart for lost in their communities.