The Baptist Convention of New Mexico's 2017 Annual Meeting closed with an event that some called a historic moment. Hector Belmonte, pastor of Iglesia Bautista Sinai, Albuquerque, delivered the Convention Sermon in Spanish. Prior to Belmonte's sermon, Beau Lamb, BCNM second vice president, announced that Belmonte's message would be the first convention sermon of any SBC state convention delivered in Spanish and translated into English. Belmonte's son, Alfonso Belmonte, joined his father on stage to translate the sermon for the convention's English-speaking messengers.
Belmonte titled his message "Perfect Foundation: Steadfast Household." He described how the United States is divided on political issues, racial hostility and sexism. These attitudes, he said, have seeped into the church and caused confusion about the Gospel message for those outside of the church. "As a result of this confusion, the world suffers," he explained.
Rather than seek knowledge from Scripture, Belmonte said that many in the church have sought solutions from worldly sources and false doctrines. Pointing to his Bible, Belmonte affirmed, "We have everything we need. We don't need to receive from the world, we're here to give to the world." He encouraged messengers of the convention to depend on Scripture as their foundation. "We have the truth, and His name is Jesus Christ," he said.
Belmonte also spoke against disunity and prejudice. He read from the Bible out of Ephesians 2; and then said, "I see that most of you here are Anglos. I am Latino. But, Jesus unites us. In Christ, there is no longer Greek or Hebrew, red, yellow, black or white. In Christ, we are one. And, if we truly practice unity, we will take it to our society." Finally, he said, "He who really has Jesus in his heart no longer has prejudices, because, in Jesus, we are one."
Belmonte referred to his own salvation experience as an example of the effectiveness of replacing prejudice with love. "When I came to this country I came without Christ," he recalled. "I had a religion. But, it was full of traditions. But, an Anglo shared the Gospel with me. Do you know why I listened? [I listened] because that man had love and no prejudice in his heart." Then, Belmonte shifted his focus from the past to the present. "And now," he said, "I'm serving the Lord with all of my heart. And now, I want to share that beautiful gift of salvation to win many Anglos to Christ. The Gospel doesn't have skin color."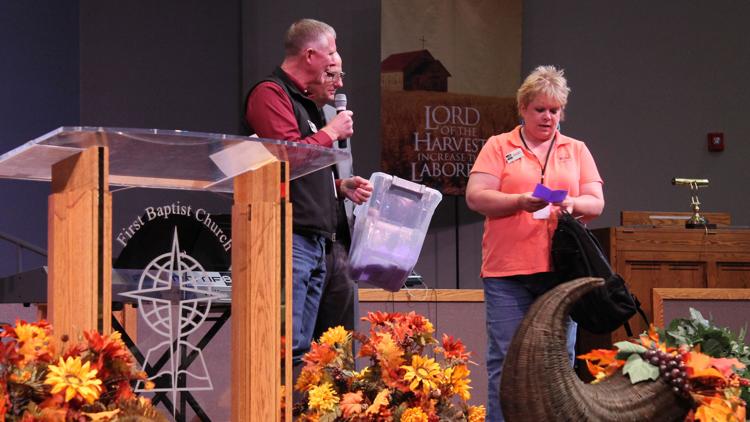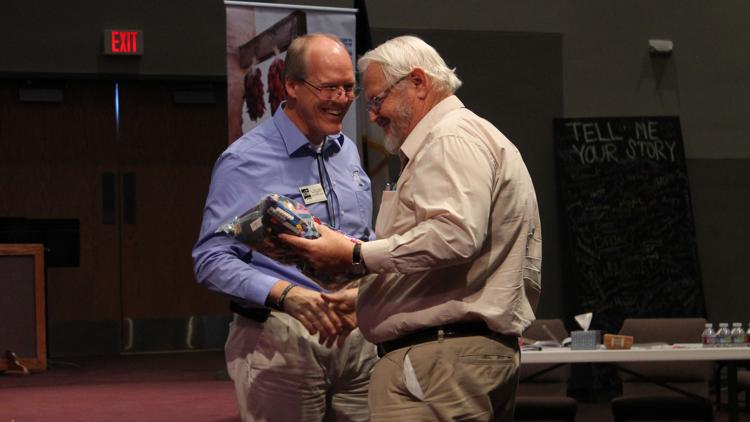 Following Belmonte's message, two convention ministry teams announced winners in prize drawings related to their exhibit booths. Tar Henderson, BCNM smaller membership and rural church consultant, and his assistant Cheryl Vaughn, drew names to give away prizes from the evangelism and discipleship team's booth. Marilyn Colburn won a drawing for the ladies' prize. Then, after drawing several names of individuals who were not present, BCNM President John Hinze won the men's drawing. Kevin Parker, BCNM director of media services, announced Al Keeney as the winner of a large bag of Lego-style bricks from the information services team booth.
In his closing remarks, John Hinze reported that the convention hosted 201 messengers and 117 visitors for a total of 344 in attendance. The 2017 Annual Meeting of the BCNM closed with a benediction offered by Bob Schlauger, pastor of Bethel Baptist Church, Aztec. In his prayer, Schlauger recognized Jesus as "our hope" despite the problems in our churches and in our nation. He also thanked God for the unity and love demonstrated at the convention meeting, and prayed that God would "grow us in our love" for Him.