The Baptist New Mexican took its new mobile office on the road to discover new stories and to report on the Baptist Convention of New Mexico's Annual Meeting in Bloomfield.
The mobile office is called StoryCentral and is a first for the BNM team. Moving the office from Albuquerque to the convention site requires more than moving a few computers. The team had to create a complete digital infrastructure to facilitate the writing workflow necessary to support GoBNM.com, social media outlets, and the printed newspaper. They arrived at First Baptist Church, Bloomfield, to set up a day before the rest of the convention's staff.
The mobile office offers facilities to download photos from photographer SD cards, on-demand printing, shared file storage, and video and audio feeds from the convention meeting hall. In all, the StoryCentral hosts 11 computers at eight workstations. Team members can monitor Annual Meeting sessions in real time from StoryCentral. Of course, some team members will always be present in the meeting room to capture photos and provide coverage.
StoryCentral claims more than technology. At its heart lies a belief that telling the right stories in the right way inspires and motivates readers to engage in Great Commission ministry in their local church. Strong, Kingdom-oriented churches are StoryCentral's goal. To accomplish the goal, this year's StoryCentral augments the four-person BNM team with five volunteers: three writers and two photographers. Together the nine-member StoryCentral team is covering all Annual Meeting events and sessions, as well as gathering tips for church stories from attendees.
The 2017 StoryCentral team attended events, gathered information and captured photographs at every Annual Meeting session, at all pre-meeting activities, and each official luncheon and reception. In all, the team's first effort produced 20 written articles and 2,703 photos. All images were evaluated, sorted, and described—making them ready for processing and use. By the end of the week after the Annual Meeting, all articles had been published online at GoBNM.com and efforts were underway to publish selected photos online, on Instagram, and in print.
The StoryCentral team also worked with on-site technical staff to record each Annual Meeting Session. Those recordings will be available at listen.bcnm.com.
Content from the 2017 StoryCentral newsroom will be published in print in the Nov. 11, 2017 issue of the Baptist New Mexican.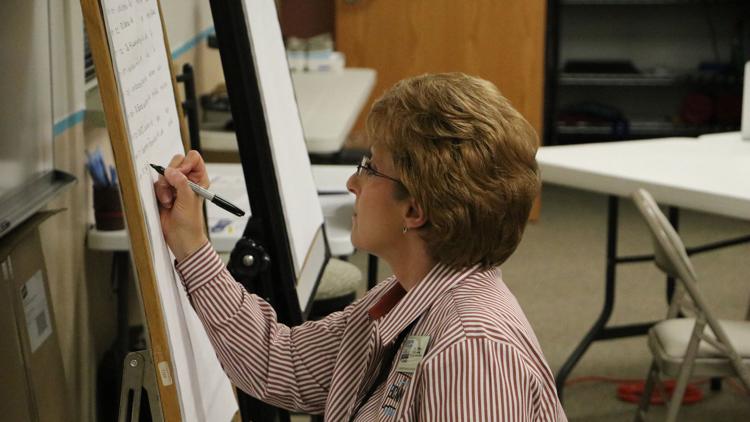 Why set up a mobile office at a remote location? Why enlist volunteers to help write and photograph Baptist New Mexicans as they gather. Baptist New Mexicans, themselves, unknowingly drove the planning and implementation of StoryCentral. BNM staff realized that their focus at annual meetings and other convention events was on the event activities and presentations given during those activities. Their stories covered sessions, business, preaching and teaching, but failed to cover the variety of Baptist New Mexicans that gathered for the activities—the people. Stories neglected God's work in their lives. StoryCentral aims to cover event activities more completely and promptly and aims to discover the previously-overlooked stories of the messengers and others who attend the meetings.
Since God constantly works among His churches, BNM staff constantly looks for those stories at other times. In discussions about the Annual Meeting and the convention's spring Evangelism Conference, they realized that representatives from churches across the state were gathered in one place for days—at those two meetings. The idea of StoryCentral emerged as they discussed how to increase story gathering and writing to discover and capture churches' stories.
This year's StoryCentral team includes Joy Pittman, BNM circulation assistant; Linda Prescott, BNM assistant editor; James Trevillian, BNM social media manager; Kevin Parker, BCNM media services director and BNM editor; Karen Pilgreen, volunteer writer from First Baptist Church, West Albuquerque; Holly Delgado, volunteer writer from First Baptist Church, Artesia; Susan Parker, volunteer writer and photographer from X Factor Church, Albuquerque; Laura Reynolds, volunteer photographer from First Baptist Church, Cuba; and Theresa Day, volunteer photographer from First Baptist Church, Aztec. The search for team members expanded the BNM's storyteller network with new members that were unavailable this year, but said that they were excited about helping in the future. Two of this year's volunteers serve as volunteer assignment writers for the BNM, writing up to three stories per month for the BNM's print edition.
Annual Meeting attendees and Baptists across the state can follow news about the Annual Meeting online at GoBNM.com, on Twitter and Facebook at BCNMatWork and GoBNM, and on Instagram at BaptistNewMexican. Stories and images are being posted as soon as they become available. Other stories discovered through conversations with messengers will be developed and released in the weeks and months that follow.