ALBUQUERQUE (BNM) - New Mexico Baptists participated in COVID-19 emergency relief efforts on the Navajo Nation through churches, New Mexico Baptist Disaster Relief and Send Relief. They provided food, cleaning supplies, and funds to the crisis response. 
In addition to local church efforts, a $6,000 Disaster Relief partnership was another example of efforts made by New Mexico Baptists to help Native Americans on the Navajo reservation during the Covid-19 pandemic. The North American Mission Board's Send Relief Network also helped, with 200 five-gallon buckets of cleaning supplies and two pallets of 50-pound sacks of rice and beans.
"In most disasters, it's regional, like with a flood you can get supplies from the surrounding area," Cricket Pairett said. Pairett serves on the Baptist Convention of New Mexico's missionary staff. She helped manage the request to New Mexico Disaster Relief and requests from churches that wanted to help meet the need on the reservation. "With this pandemic, it's national and international," Pairett continued, "and that makes getting supplies to the people who need them more difficult."
That Southern Baptists already dealing with Covid-19 issues of their own would pivot quickly to meet the emergency needs on the Navajo Nation is "encouraging," Tim Tsoodle told the Baptist New Mexican. "I'm exhausted." Tsoodle pastors Carlisle Community Baptist Church, Albuquerque. He is also the FEMA-trained director for the Navajo Nation Christian Response Team.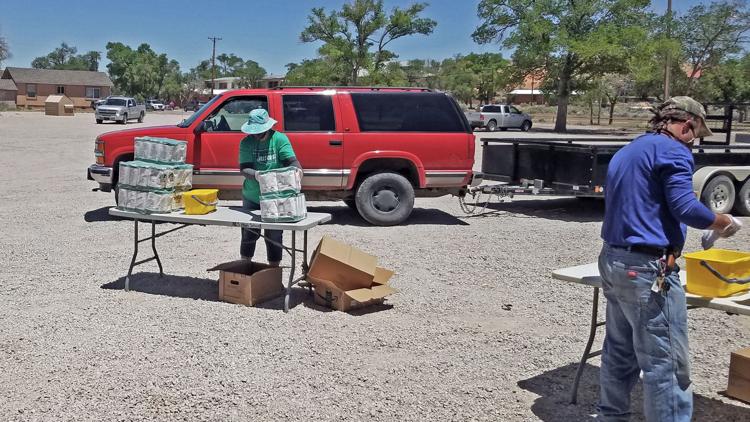 Because of his logistical skills, Tsoodle, a Kiowa from Oklahoma, became the point person for Southern Baptist relief efforts to the Navajo. He received the $6,000 from individuals and churches for helping Navajo people. He offered half to each of the New Mexico and Arizona Disaster Relief teams. Their jobs were to purchase food and other supplies and take them to designated locations in either the eastern or western sides of the reservation, for convenient pick-up by area residents or volunteers. "Our main directive was to protect native elders, single-parent moms, widows and the families of first-line responders," Tsoodle said
The Navajo people "were blindsided by the pandemic," said Chad Spriggs, a NAMB church planting catalyst and Send Network New Mexico director who helped with the relief effort. "Just the lack of technical advancement really delayed their ability to prepare," Spriggs told the Baptist New Mexican. He and others spoke of traditional customs and infrastructure weaknesses that allowed the pandemic to spread rapidly on the reservation. By May 18, the Navajo Nation per-capita rate of infection exceeded New York's rate. 
Southern Baptists and other Christian groups have partnered with state and tribal leaders from the beginning of the pandemic on the Navajo Nation. "It's been a combined effort," BCNM Native American strategist Daniel Clymer told the Baptist New Mexican. "When we first started, New Mexico Disaster Relief was packaging food boxes for families for the state government to deliver."
Among the Southern Baptist churches that participated in the Navajo Nation relief efforts, Cerillos Community Church "blessed us financially, and that gave us a springboard to start," Tsoodle said. "Simply put, we would not have been able to begin without their gift." Desert Springs Church, Sagebrush Church and Christ Church, all in Albuquerque, First Baptist Church, Silver City, and First Baptist Church, Taos, were also among the churches that responded to the need for finances, food, cleaning supplies, paper products and even toys and games for children.
"It was amazing to see how our little church rallied to help provide food, in just a few days," Steve Timmons told the Baptist New Mexican. He serves as the Christian Challenge director at Western New Mexico University in Silver City. He is a member of First Baptist Church, Silver City.
"I worked with Food Basket, the local grocery store, to provide a sizable discount for us to purchase food," Timmons said. "We filled up a stock trailer with food and PowerAde, plus took a sizable check with us to take care of ongoing food needs in the area."
"God is truly at work on the Navajo Nation," Timmons continued. "My prayer is that the people see that it is God's people who are providing for their needs, and they are drawn to Christ."
Several other New Mexico Southern Baptist churches have been part of the emergency response on the Navajo reservation. Rob McIntosh, the pastor of Creator's Fellowship, Church Rock, just outside of Gallup, said he watched the need on the reservation grow. It began March 20 with the first 8 p.m. to 5 a.m. daily curfew, which expanded to include a 57-hour weekend curfew. McIntosh was among several who said the need for food and supplies on the reservation would continue for a month or two. That time will help assure that the elderly and infirm in isolated areas are not neglected.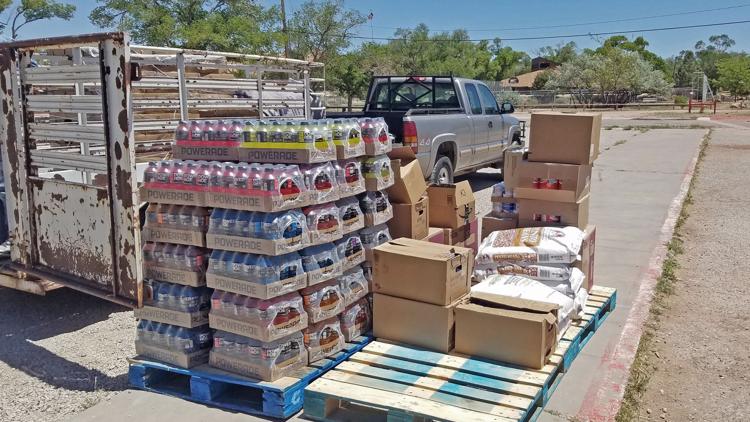 "The [government] system in place has gotten better, but much more needs to be done," Tsoodle said. "When you talk to a minister and see him distraught over what he's seeing, that gives you an indication [of] how bad it is." Elderly and isolated Navajo residents' needs for emergency help began when New Mexico's governor issued "stay at home" instructions, March 20, several leaders said. 
With the Navajo Nation's June 7 opening, NNCRT is moving into recovery mode, Tsoodle said. "The biggest part driving me now is that we have taken an extraordinary amount of losses to the pastors," Tsoodle said. Reservation Covid-19 death estimates vary between 10 to 15 pastors of several denominations. "We have documented cases of the pastor, wife and one of the children deceased," Tsoodle said. "Two and three generations dying days apart."
"The greatest need right now is an extraordinary amount of prayer for wisdom as we work with the stakeholders – those involved in Native ministries – over the coming famine in God's word," Tsoodle said. A Zoom meeting is planned for June 12 for Christian leaders to discuss ways of ministering to the churches with vacant pulpits.
"The church, the body of Christ, has been charged to bring the good news of Jesus to a lost world," McIntosh said. "How can they hear the good news and experience the love of Christ unless we do what we can to help? We do Jesus an injustice if we abandon the Navajo Nation at this time."