ALBUQUERQUE (BNM) – Anchor Church, Albuquerque, hosted a Memorial Day outreach event alongside their Sunday service on May 26. 
The event, called "Courtyard Church," was a full worship service held in the outdoor courtyard area of Desert Ridge Middle School, the church's regular meeting place. A barbecue and Memorial Day celebration followed the event. The church rented Central Baptist Association's Evangelism Block Party Trailer for the event. The trailer includes a popcorn machine, cotton candy machine, snow cone machine, a grill and an inflatable bounce house.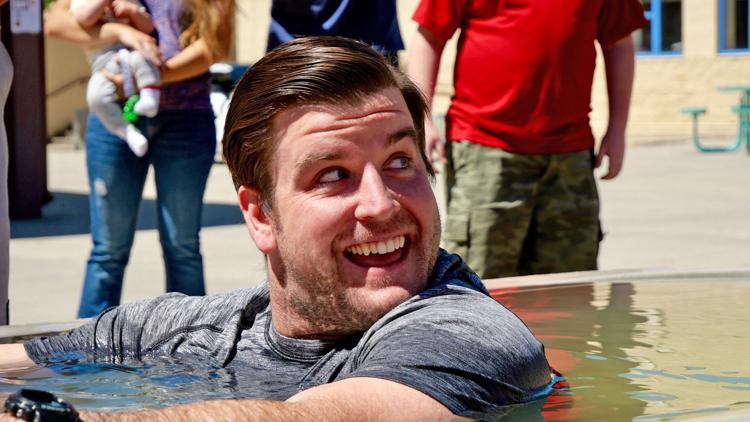 Pastor Jared Bridge said the event was an "awesome time," complete with a game of kickball and plenty of food. He said the event better resembled an outreach event than a church fellowship event. About 20 visitors attended. The highlight of the event, he said, was the baptism of one of the church's new believers. Bridge baptized him in a large portable tub filled using 200 feet of hose connected to the school gym's water heater. 
These types of events help maintain a "mission-minded" congregation, according to Bridge. Most of the congregation volunteered to assist with the cookout. Anchor Church's outreach events create a "movement of missions and momentum," he said. 
Chad Spriggs, a church planting catalyst for the North American Mission Board, led the service's music segment and helped coordinate the event overall. Spriggs described himself as the "executive over ministries" for the church. He said his highlight of the event was that "the church had an opportunity to come together and worship the Lord," and that the Gospel continues to be preached and shared.
For Spriggs, events like this help change expectations of normal worship services. They allow people to focus more about being part of God's community rather than simply attending a service. "It was a really nice change of pace," Spriggs said. He felt the event was a great time for the church's community to gather and "connect in ways they don't typically get to throughout the week." 
The outreach was the first of its kind since the church was established around seven years ago. Bridge plans to host several more of these events throughout the summer.