ARTESIA (BNM) - On Nov. 24, 2019, First Baptist Church, Artesia, held an ordination service for Benjamin Cox, associate pastor of students and Seek 1st Sports.
Cox grew up in Aztec, and is the youngest of three siblings. His parents are Danny and Carolyn Cox. When he was seven, he was saved and baptized at First Baptist Church, Aztec. After finishing college and marrying his wife, Katrina, the couple moved to Phoenix, Arizona, where Katrina pursued a degree in the culinary arts. After his wife's graduation, the couple moved back to Aztec.
Cox had a desire to serve in the church where his faith journey began, so he stepped into a vacant leadership role in the church's youth ministry. That step led him to become a bi-vocational public school teacher and youth minister for six years. It was during this time that he felt a call from God into full-time ministry.
Cox applied to First Baptist Church, Artesia, and was hired on August 3, 2018, as the associate pastor of students and Seek 1st Sports. He ministers to area youth and children through the student ministry, as well as the basketball and football sports programs he leads at the church.
When asked about the call on his life, he stated, "I felt a call into full-time ministry and was encouraged to apply for an open position in Artesia by Susan Parker [wife of Kevin Parker, director of media services for the Baptist Convention of New Mexico]. So, I applied. God has been preparing me for this ... Even though I wasn't intentionally seeking Him through high school, college and some of my adult career, He was preparing me. I can testify that God is faithful, full of grace and mercy, and I am blessed to be able to serve Him in this capacity today."
Cox was ordained in the church's Total Life Center during its church-wide Thanksgiving service. His sister, Laura Campbell, and niece, Abby Campbell, sang "Just As I Am." Kevin Parker brought the message of encouragement.
Cox stated of Parker, "He was the one who 'hired' me at First Baptist Church, Aztec. And, he has played a significant role in my Christian growth. His presence was encouraging to me."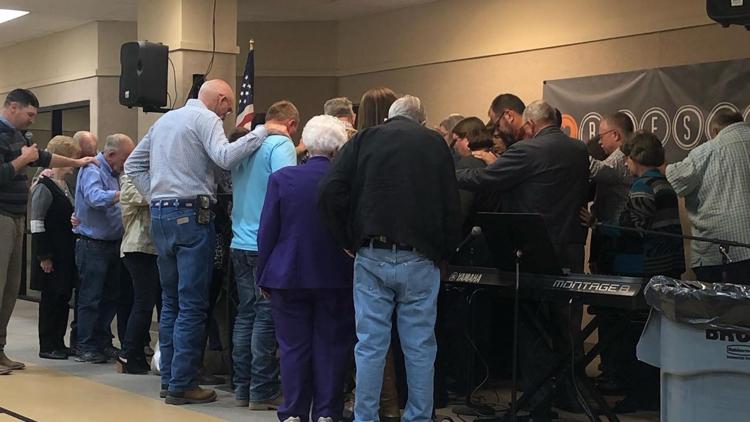 The staff and ordained men and their wives prayed over Ben, laying their hands on him. The church's lead pastor, Ty Houghtaling, brought the charge to the church stating, "Tonight, I want to encourage you to place your full support behind Ben Cox. He is a man of integrity and grit. Ben does not compromise God's standards for being a pastor. He faithfully lives in the beauty of God's grace. He is a man who loves his wife and his little girl sacrificially and unselfishly. He has a servant's heart."
Associate pastor of discipleship and children, Chance Perkins, gave the closing prayer. Reflecting on the prayer, Cox said, "[Perkins] prayed for me to suffer, which might sound miserable and counter-cultural for sure, but is biblically spot on and something I will never forget. [Being] called to suffer for Christ is an eternal blessing when we do get to do that for Him."
Of Cox, Houghtaling said, "He is committed to his job and seeks to grow in his understanding of his calling. He is without a doubt one of the most humble men I know. His gaze is on Christ and his hands are strong for the job that lies ahead. I am honored to know him and serve alongside him."